The Young Irelanders perform March 18 at UW-WC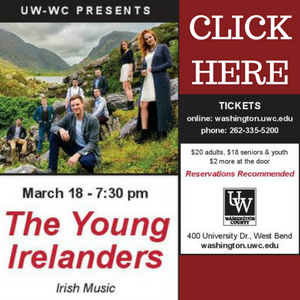 March 2, 2017 – West Bend, WI – If you're Irish or just enjoy Irish music and dance, you will not want to miss the phenomenal talent of The Young Irelanders concert at UW-Washington County on Saturday, March 18. The group features eight talented performers – including some former members of Riverdance – who will perform at 7:30pm in the campus theatre. The young musicians (in their 20s and 30s) have presented their traditional Irish music across the globe, including performances for U.S. Presidents as well as many foreign country dignitaries.
Two members of the group – Colin Farrell (fiddle, whistles and vocals) and Damien Mullane (accordion and melodeon) – were brought up in Britain to Irish emigrant parents. Both have gone on to become among the most revered Irish traditional musicians in the world, while they have also been drawn to these strong Irish roots and have spent many years living in Ireland.
Dancers include Siobhan Manson and Cathal Keaney. Manson has been the principal dancer for Riverdance for over 10 years while Keaney won the World Dancing Championship for two years in a row. Other members include Kieran Munnelly (flute, whistles, bodhran, snare and vocals), Stephen Markam (keyboard, piano, percussion and vocals), Sean O'Meara (guitar and vocals) and Lisa Canny (lead vocals, harp and banjo). The sound the band creates is best described as eclectic, where traditional Irish music, celtic music, folk music, world music, jazz music, country music and popular music all come together to give rise to a very unique and multi-faceted sound.
Advance tickets for the 7:30pm Young Irelanders concert are $20 adults, $18 seniors (over 62) and youth (under 18). Tickets are available online, www.washington.uwc.edu or email [email protected]
UW-WC is located at 400 University Drive in West Bend.  The theatre is located on the second floor of the campus. Free parking is available. For more information, visit the campus website at www.washington.uwc.edu.