Get your Irish on at UW-Washington County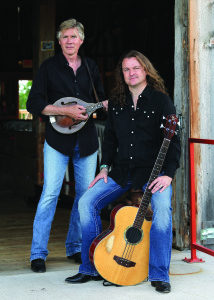 Switchback Combines American Roots with Celtic Soul
Brian FitzGerald and Martin McCormack of the duo Switchback, will present their brand of eclectic Celtic and Americana music at UW-Washington County theatre on Friday, March 18 at 7:30 .pm.
Playing together since 1993, Switchback's concerts feature a mix of Irish music and original songs, which they describe as "breathtaking scenery for your ears."
McCormack wields both a mandolin and guitar and is known to dance around the stage while playing. Fitzgerald, a one man rhythm section, supplies a bass groove on guitar.
According to one fan, "Switchback doesn't just play music – these guys are great comedians, storytellers and historians." Their Celtic music is authentically Irish and their latest CD, The Hibernian Mass turns their talents to the story of St. Patrick.
Switchback plays over 200 engagements around the world each year – from festivals in Michigan to Nova Scotia and their music is frequently played on radio stations in Ireland as well as Public Broadcasting Stations throughout the United States. Whatever the audience, their music captivates and charms audiences with their creativity and high energy.
Advance tickets for the Switchback concert are $20 adults, $18 seniors (over 62) and youth (under 18). Tickets on the day of the show are $2 more. Refreshments will be available for purchase from Jeff's Spirits on Main. Advance tickets are available online, www.washington.uwc.edu.
UW-WC is located at 400 University Drive in West Bend. The theatre is located on the second floor of the campus. Free parking is available. For more information, visit the campus website at www.washington.uwc.edu.