Feb. 7, 2019 – Hartford, WI – Hartford neighbor, Todd Bultman, is one of three candidates running for 1st District alderman on the Hartford Common Council.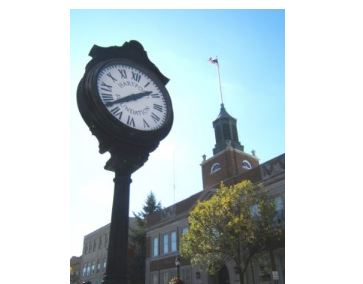 "I am running because I feel I can bring a fresh voice to the council," said Bultman. "I also feel there can be expanded growth in business in the area which can lead to more jobs and more people moving to the area. I especially want to bring a better connection between the voters and the council members."
Currently a Branch Sales Manager for Paramount Residential Mortgage Group, Inc., Bultman was raised in Greendale, WI, an alumnus of Greendale High School and UW-Platteville.
Bultman and his family, including five children ages 3 to 20, moved to Hartford in 2010. "We were looking to move out of Milwaukee County. Neither my wife nor I had any personal ties to Hartford when we moved here," said Bultman. "We really liked the city and have really been pleased with it as a place to raise our family. We are members of Peace Lutheran Church and our children attend school there and I am currently the PTA President."
Bultman believes what sets him apart from the other candidates will be his transparency and availability. "I don't just want to hold the seat, I want to be the representative and voice. To do that I need to hear the concerns of the people in the district I represent. I will be at meetings early so if the people of the first district want to speak with me they know who I am. I want them to contact me as I am the one representing them and their voice."
Bultman does not have any political experience but he doesn't feel it will put him at a disadvantage. "I have a good background in decision making and will have the best interest of the city in mind," he said. "I want to have the city be the best it can be."
When asked what he believed was the most significant issue facing the city, Bultman thinks Hartford needs continued growth and more awareness regarding TIFs or Tax Incremental Financing Districts. "They are useful when bringing in or keeping a business, however, if you use it to build apartments or housing you add residents that lead to needing more services (police, fire, schools) and the rest of the tax base is paying for that," he said.
Incumbent Joe Fulop and Erin Wilk are also running, the primary election will be held Tuesday, Feb. 19, 2019.
The spring election is April 2, 2019.
To see what district you are click HERE.