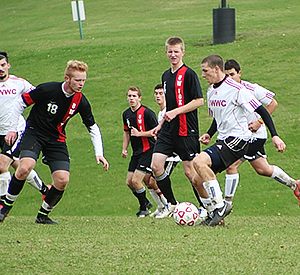 Sept. 18, 2018 – Washington Co., WI – The UWM at Washington County soccer team traveled up north this past weekend to Wausau where it played against Marathon County.
Both teams were down a player and had no substitutions for the duration of the game.
The Wildcats had a rough start, allowing a goal in the first few minutes. Then, things took a turn for the worst as one of our players went down with an injury.
Despite being down an extra man, the Wildcats fought hard and managed to tie the game on a goal from Jack Blaski.
The remainder of the game was back-and-forth, with both teams generating several scoring chances.
In the closing minutes Marathon County managed to score the game winner.
Despite losing 2-1, goalkeeper Tommy Hess played a good game, making 10 saves.
The Wildcats next match is Thursday, Sept. 20 at Carthage College.