Tribute to Herb Tennies – friends and staff say thanks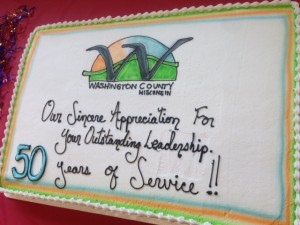 The salute to Herb Tennies has begun as Washington County rolls out recognition for his 50 years of service. This afternoon county staff, supervisors, friends and family gathered across from the county board room to "shake hands with Herb" and wish him well.
"It's his passion for the community," said County Board Supervisor Kristine Deiss. "He's been involved in so many ways and we've benefited from that…. so good for us."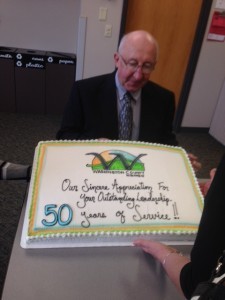 Tennies was 26 years old when he started in county government. "And tomorrow I'll be 77," said Tennies. "Another big party."
Over the years Tennies has watched the county grow from a landscape of farms and small town businesses where Highway 45 ran through the middle of downtown West Bend to a county that has tripled in size and built strong industry.
Tennies developed a reputation for being efficient and frugal; he set the pace for responsible government long before it became en vogue.
"I hope I served the people in Washington County the way they wanted me to," he said. "I'm proud of what the county has done. In the 50 years I've been here the county has grown and county government has grown."
Tennies talked about how there are more services and more staff. "It used to be just the county clerk ran the county and then it went to the county board chair and county clerk and then to administrator and coordinator and now it's the administrator," he said.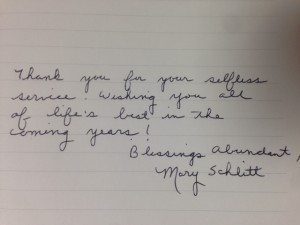 A lot of familiar faces slowly started trickling in this afternoon; Judge Andy Gonring and Judge James Pouros along with County Board Supervisors Ron Naab, Tom Niebler, and Pete Sorce.
"There will never be another Herb Tennies," said Dist. 24 Supervisor Peter Sorce dress in a snappy blue pinstriped suit.  "He's the coolest, greatest friend I ever had in my life."
Sorce went on to tell the story of when he was first elected to the county board. "When I got on here I didn't know which way I was going and I told Herb I didn't think I'd make it and he gave sound advice and told me I'd be fine and he was right," Sorce said.
Deb Sielski, assistant administrator of planning with the County Parks and Planning Department, has worked on committees with Tennies the past 19 years. "He's made a huge difference," she said. "He's been instrumental in getting a lot of things done and he's always supported the projects going forward."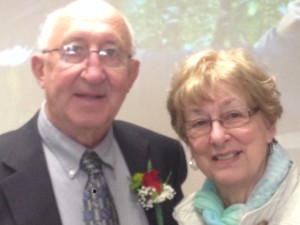 The room was decorated with framed pictures of the county boards through the era. There was a very large cake a slide-show video of Tennies, his life and family,  flashing on the south wall of the room. Photos of Herb and his wife Suzanne and their 16 grandchildren – many who were in attendance.
"Lots of different people and department heads are retiring and it's time for me to get out too," joked Tennies. "Let the new crowd take over. One thing is you can never be afraid of change; you've always got to be willing to change."
Questioned what he'll do in retirement Tennies said he'll find plenty of things to keep busy.
"I will find lots of things including fishing and helping at the store," he said.
Asked whether his kids knew about his plans to return to the hardware store his son Todd chimed in, "We're going to have to put you on a set schedule."
Tennies final county board meeting before the April 5 election is being held from 2 p.m. – 4 p.m. followed by a gathering at the courthouse.
Stay tuned to http://www.washingtoncountyinsider.com for updates.
Kristine Deiss has been in county government for 30 years. "