United Way of Wash. Co. partners with Broan to install Born Learning Trail in Hartford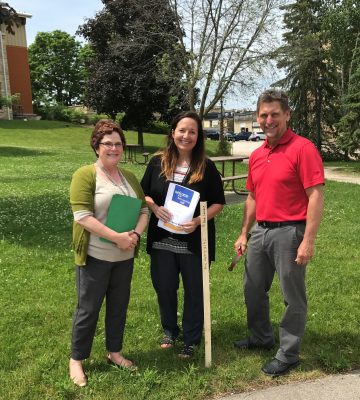 June 22, 2017 – Hartford, WI – United Way of Washington County is partnering with Broan and the City of Hartford to install the first Born Learning Trail in Hartford.
According to the U.S. Department of Education, 46 percent of kindergartners are not prepared for school and these organizations are uniting to make a difference. Born Learning is a United Way initiative that uses research-based games to build language and literacy—which are key drivers of school readiness.
The trail will follow a path marked with colorful signs adjacent to the Jack Russell Memorial Library. This will be the second Born Learning Trail in Washington County. The first was installed at Villa Park in West Bend last year.
Born Learning research shows parents and caregivers often undervalue their role. Many don't know how to prepare children for school, or feel they don't have time to do what's needed.
It's crucial for parents and caregivers to make early learning a priority. By age five, 90 percent of a child's brain development has already taken place, and this early development sets the stage for the rest of a child's life.
The Born Learning Trail will be sponsored and installed by employees of Broan in partnership with United Way of Washington County and the city of Hartford. The team of volunteers will install the trail in June with a grand opening and community ribbon cutting to be held later in summer.
"Broan is so proud to be a sponsor of the Born Learning Trail program in Hartford," said Jeffrey Rodgers, VP of Marketing at Broan. "This program will provide an exciting and fun way to turn everyday activities into learning moments for children and their families. We view this as an investment in our children of today who will become our leaders of tomorrow."
"It's a free activity anyone can use," said Diana Swillinger, United Way Community Engagement Manager. "This project is a fantastic example of how impact is created when local people and partners work together to build a stronger community."
"We are extremely appreciative of Broan's sponsorship and volunteerism to bring the Born Learning Trail and School Readiness initiative to Hartford," said Kristin Brandner, Executive Director of United Way of Washington County. "It demonstrates their commitment to the people of this community. They are a great example of what it looks like to give back."
Born Learning Trail Installation Information
The trail will be installed on the west and north sides of the Jack Russell Memorial Library, 100 Park Ave, Hartford, WI 53027 on Tuesday, June 27, 5-8 p.m. The rain date, if needed, is the same time on Wednesday, June 28.
About United Way of Washington County
United Way's mission is to mobilize the caring power of Washington County to improve lives and community conditions in measurable and lasting ways. United Way is a volunteer-driven organization that serves all communities in Washington County. It is governed by a board of community volunteers, dedicated to providing funding and community resources for health and human services needs in the areas of Education, Financial Stability, and Health.