Oct. 8, 2017 – Washington Co., WI – The UW-Washington County volleyball team won a very tough WCC Eastern Division Match against UW-Marinette 18 – 25, 25 – 22, 25 – 21, 25-15.
The team had been practicing this week on how to stop some of the UW-Marinette's strong players.
All their work paid off as the Wildcats were able to win some very tough rallies.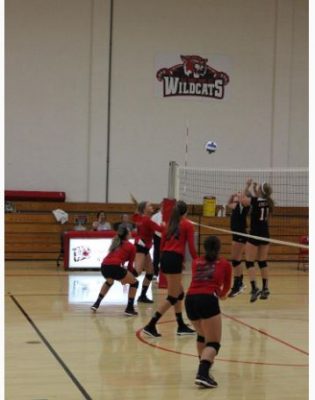 "As a team we need to serve hard, consistent and have zone placement to beat UW-Marinette," said coach Deb Butschlick. " As a team serving was at 91 percent.  We needed this win this match to keep us in the top of the division.  The team played their hearts out and it showed on the court."
Ally Weix had 18 kills, 3 ace serves, 19 digs
Meghan MacFarlane had 14 Kills, 27 digs, 6 blocks
Courtney Peters had 14 kills, 16 digs
Kayla Boehm had 9 kills, 8 blocks
Kayla Schommer had 49 assists for kills, 5 ace serves
Catherine Tucker had 33 digs
UW-WC is 4 – 1 in the WCC Eastern Conference and 9 – 1 overall.