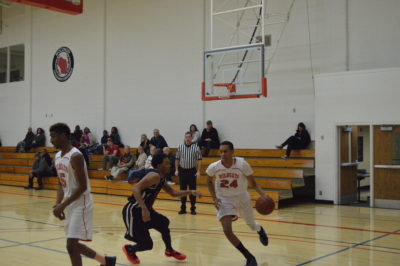 Nov. 19, 2017 – Washington Co., WI – The UW-Washington County Wildcats won its home opener over UW-Marshfield, 100 – 62.
A very large crowd was in attendance in West Bend to see the Wildcats rotate 13 players into the game and maintain a fast tempo to wear down the Marauders who led by as much as seven in the first half.
The game was tied 31 – 31 when the Wildcats took control with an 18-4 run to close the half with a 49-35 lead.
Several of the players on the team last season that reached the state championship game were in attendance and saw the new players using some of the same successful characteristics as last season, as seven Wildcats scored between nine and 18 points for a very balanced attack.
UW-Washington County received double-doubles from Ahmad Pender with 18 points and 10 rebounds, and Arthur Barnes with 14 points and 13 boards.
Adrian Huerta scored 17 and added 7 rebounds plus a game high 8 assists.  Taylor Tidzump and J Broxton Thomas each scored 11 for the Wildcats.  Tidzump had 7 rebounds.  Derrick Chaney and David Wiley, Jr. each scored 9 with 5 rebounds.  Chaney had 5 assists.  Campbellsport's Koy Walsh grabbed 8 rebounds.  Slinger's Mitchell Behm hit the pair of free throws that saw the Wildcats reach the century mark for the first time since January 27, 2016.
The UW-Washington County men's basketball team returns to action Monday, Nov. 20 at 7 p.m. at home vs. Concordia University JV team.