UW-WC Wildcats beat UW-Waukesha Cougars 78-76 | By Stephen Murphy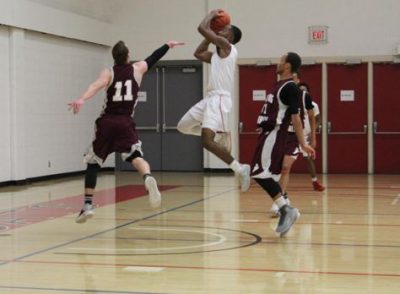 Feb. 8, 2018 – Washington Co., WI –  Playing some of their best hustling team defense of the season, the UW-Washington County men's basketball team swept defending champion UW-Waukesha in the season series for the first time since anyone can remember with a 77-64 victory in West Bend.
The Wildcats held a 36-27 advantage at halftime, but the Cougars pulled to within 2 points in the second half before the Wildcats managed to pull away for a hard fought win over a tough Cougar team that had won 9 of its last 10 games.  The Wildcats record is now 17-1 overall and 15-0 in conference play.  In their previous meeting on December 13, the Wildcats won a thrilling 78-76 decision in Waukesha.
Statistical leaders in the win Wednesday night included Ahmad Pender, Jr. with 18 points and 6 rebounds.  Adrian Huerta scored 17 points, plus 6 rebounds, 3 assists, and 2 steals.  AJ Barnes, Jr. added 12 points while leading the team in rebounds with 11 and 5 assists.  Koy Walsh scored 11 and grabbed 4 rebounds.  Derrick Chaney drove well to the basket and scored 8 crucial points while hauling in 6 rebounds.  J Braxton Thomas scored 7 and had 6 rebounds.  David Wiley, Jr. had a pair of steals and 5 rebounds.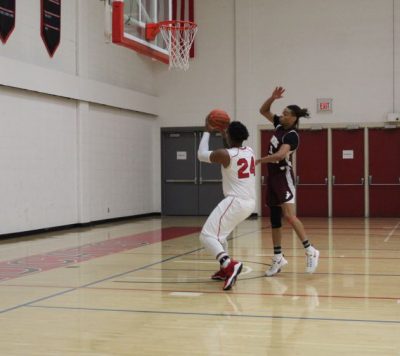 Both teams played well defensively, forcing low shooting percentages as the Wildcats shot only 39 percent and the Cougars shot 36 percent from the floor.
Perhaps the difference of the game may well have been the strong rebounding by the Wildcats guards who collected a season high 32 of the team's total 53 rebounds while the Cougars had 43 rebounds as a team.
Next up for UW-Washington County is a home game Friday night against UW-Fond du Lac.