VIDEO | Civil War monument dedication at St. Augustine Cemetery in Washington County
November 14, 2019 – Town of Erin, WI – The sun was out early Saturday morning as a small group gathered at the edge of St. Augustine Cemetery off Holy Hill Road and St. Augustine Road to dedicate another Civil War monument.
Veteran Mark Baldwin led the ceremony to recognize Civil War veterans Casimere Goetz and Jacob Kramer.
"The county's Civil War monument group is made up of veterans from all the different groups and part of this project is to make sure we honor all our Civil War veterans buried in Washington County," said Baldwin. "The project to recognize Civil War veterans is a labor of love. This project was started by Gene Wendelborn, a key researcher at the Washington County Historical Society, and he passed away before we ever got to this phase of placing monuments."
Tony Montag, co-chair of the Washington County American Legion, thanked the 25 Sportsmens Club for making a donation to pay for the monument.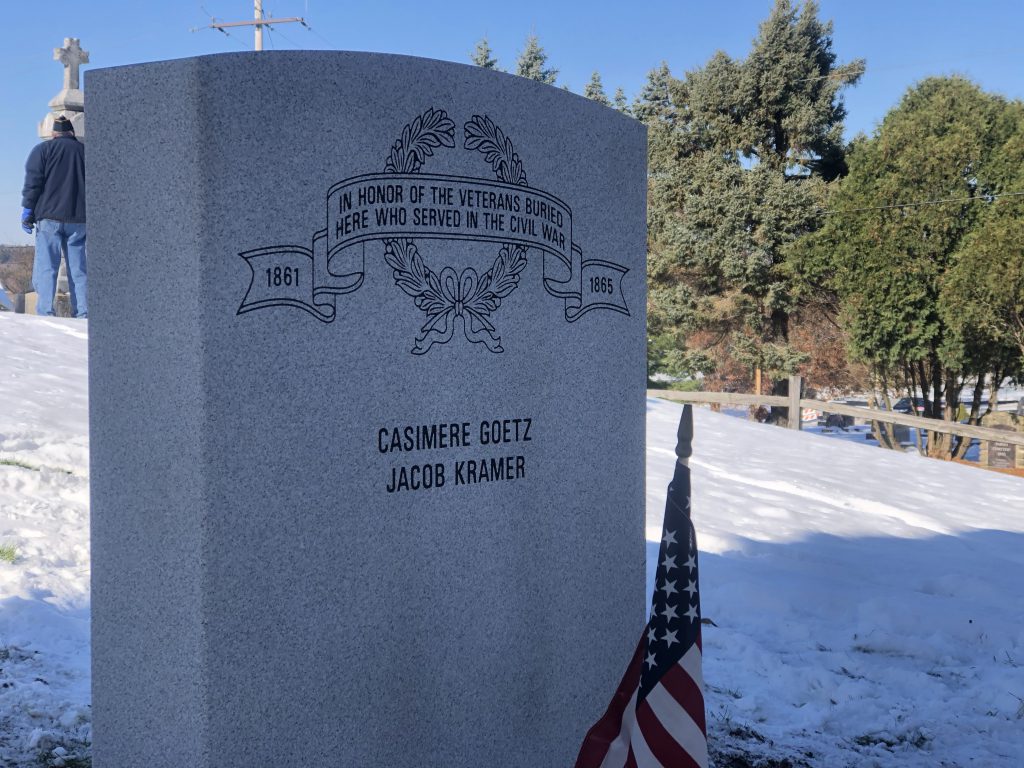 Click HERE to watch other Civil War monument dedications.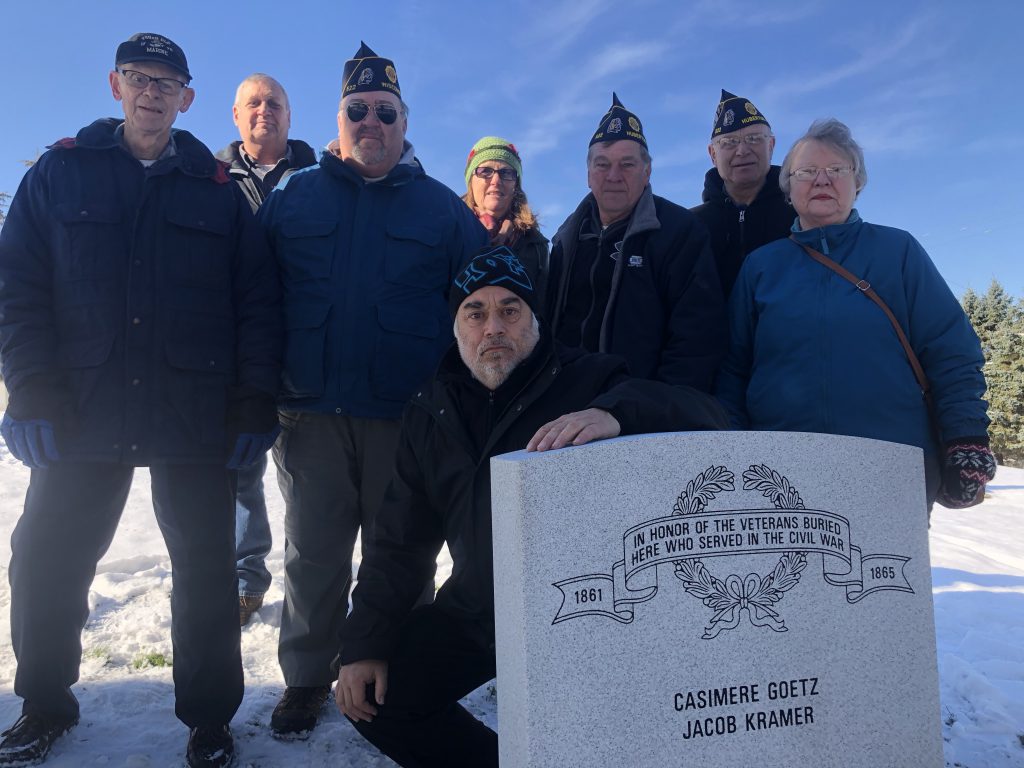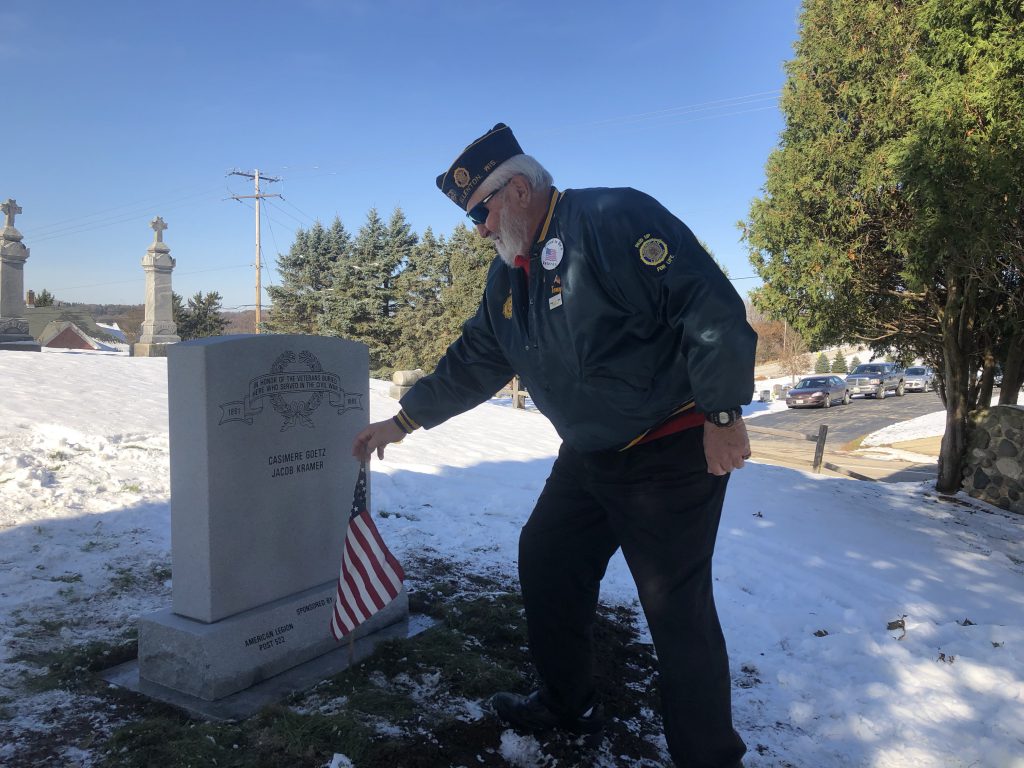 The Civil War Monument effort was started by Gene Wendelborn.
Eugene B. Wendelborn of West Bend, died on Monday, Aug. 18, 2014, at The Kathy Hospice at the age of 89 years. He was born on Dec. 5, 1924, in West Bend to the late Chester J. and Louise C. (nee Richter) Wendelborn.
On June 7, 1947, he was united in marriage to Shirley W. Koch at Holy Angels Catholic Church. Shirley predeceased June 6, 2000.
After graduating from West Bend High School, he served with the United States Navy in the Pacific Theater during World War II. Following his discharge, he returned to West Bend and continued working at the Gehl Company. He was a purchasing manager, retiring after more than 44 years of faithful employment.
Following his retirement, he became active with the Research Center at the Washington County Historical Society. He also enjoyed fishing, spending time outdoors, gardening and was a member of the Hexelbank Club at Gehl Company.
He was a devoted husband and father and was very proud of his grandchildren and great-grandchildren.
Survivors include three children: Robert of West Bend, Kathryn of West Bend and William (Colleen) of South Bend, Indiana; five grandchildren, Lisa (Greg) Garstka, Amy, Mark (friend Ann), Andrew, and Caitlin (Brent) Vlaeminck; six great-grandchildren: Jason, Nicholas, Michael, Matthew, Tucker and Myles; one sister, Audrey Brumm of West Bend, one brother, Donald (LaVerne) of Clintonville; one sister-in-law, Muriel Hadfield of Glendale; nieces, nephews, other relatives and friends.
In addition to his wife and parents, he was preceded in death by a daughter-in-law, Bonnie, and two sisters, Carol (Floyd) Potter and Noraleen (Marvin) Gutterman.
Private services were held with burial in Holy Angels Cemetery. Those who wish may give memorials to the Holy Angels School Trust Fund, The Kathy Hospice or the Research Center of the Washington County Historical Society.
The Schmidt Funeral Home of West Bend is serving the family.