February 19, 2020 – West Bend, WI – The West Bend Common Council unanimously passed a resolution this week honoring former Mayor Kraig Sadownikow for his nearly 10 years of service to the community.
Acting Mayor Steve Hoogester read the proclamation which cited Sadownikow's work to help the City of West Bend "achieve significant economic growth and improve overall financial stability."
Sadownikow was also praised for his "outstanding leadership as Mayor, devoting a substantial portion of his time for the betterment and enrichment of the citizens of West Bend."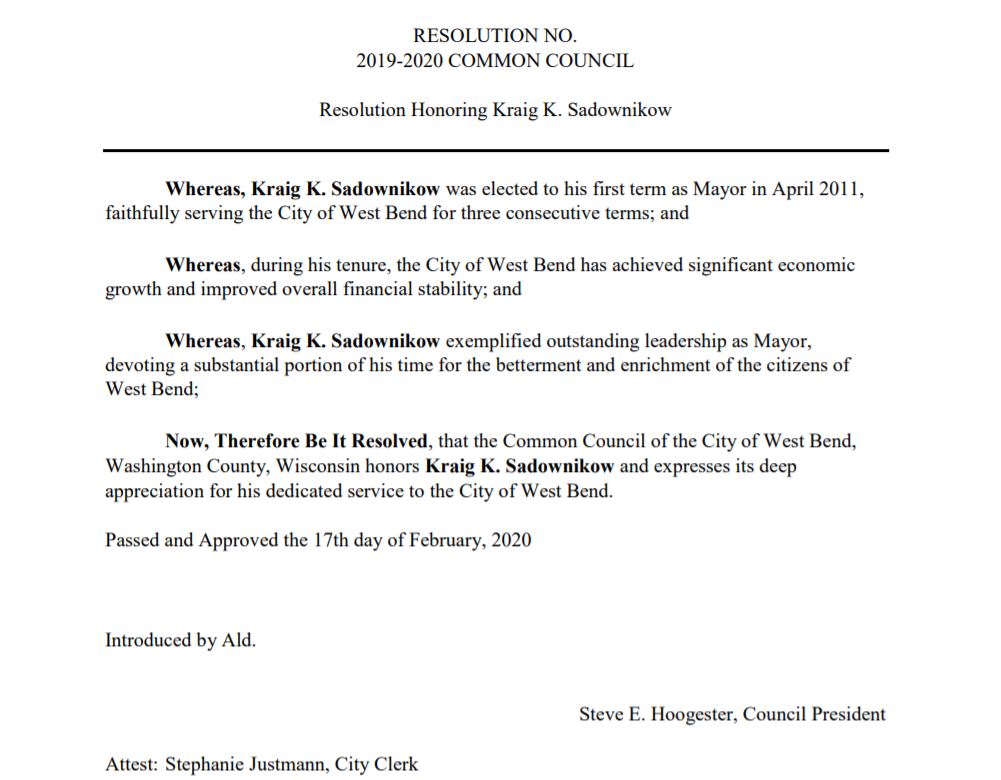 Sadownikow responded with humble thanks. "Very unnecessary but very much appreciated recognition," he said. "Thanks also to the citizens of West Bend for electing me for the better part of a decade. I took the position seriously… I know we all work hard for the betterment of West Bend.
"When I was elected in 2011 my hope was to be part of a team that could leave it better than we found it and I think by most any measure that's true. Thanks to many, many people in this room, other staff members and council members … and many, many people contributed to the positive momentum that is undeniable in West Bend right now. The feeling of strength, the feeling of power, the feeling of quality that exists in West Bend is pretty remarkable."
Former District 4 alderman Ed Duquaine also presented Sadownikow with an engraved rock that will be place by Old Settler's Park in downtown West Bend. "I've been working with City staff to find a way to honor your service to the community. Through private donations we were able to fund this engraved stone. It's just another way to say thanks for all the hard work you do."
Asked for any parting words, Sadownikow said, "Keep working hard and you too can earn a rock."