Newburg, WI – Just west of the Newburg Sportman's Club on CTH M is a small farm stand with brilliant colors. Xiong Family Produce is a seasonal operation. Located on 14 acres the fall harvest currently features fresh vegetables and amazing flowers.
"We've been farming here for two years," said Bao Xiong, the owner of the operation. "Right now, we have vegetables and way too many flowers."
Click HERE to SUBSCRIBE to FREE local news at
Dressed in a dark blue knit hat and an orange sweater Xiong walks in from the field to greet customers. She keeps change in her apron and tallies the total purchase in her head. "People come from all around this area," she said.
Xiong drives in daily from Milwaukee. They like the location in Washington County because of the rich soil.
The dahlias at Xiong Family Produce are stunning. Everybody says so… Within 10 minutes two vehicles pull onto the gravel road and in another 10, both motorists are walking away with a $10 bouquet of flowers.
The arrangements are glorious, and the price is ridiculously affordable. One customer left a tip equal to what she paid.
The roadside farmstand also features a colorful array of handpicked vegetables. There's a vista of sweet peppers.
Tubs of cherry tomatoes are surrounded by containers of garlic, onions, tiny potatoes, and if you're Mary Lynn Bennett… you'll pick up a handful of hot pepper.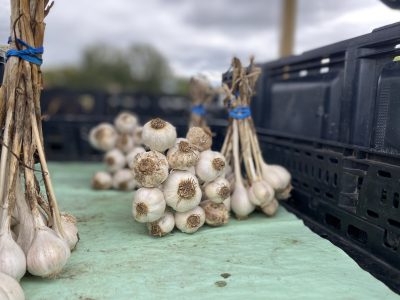 Xiong Family Produce is open daily and closed on Sunday. The hours are flexible between 9 a.m. and 4 p.m. The prices are phenomenal. Support your local farmers.