June 20, 2019 – West Bend, WI – A hat tip to the wonderful staff at Poblocki Sign Company in Milwaukee for opening its doors so we can give you a behind-the-scenes look at the latest stage of refurbishing for the Historic West Bend Theatre sign.
On Dec. 27, 2018 the landmark was removed from the side of the theatre in Downtown West Bend; it was loaded onto a semi and brought to the shop to give the 90-year-old iconic sign a face lift.
On Wednesday after the letters and decorative edges had been tightly taped off with fine precision the final spray-painting process got underway.
Poblocki's Paul Kaminski tried to give an update over the din of the ventilation in the room. "The yellow is a primer color," said Kaminski. "The reason it's taped off in the letter troughs is because it's going to be a lighter color than the teal blue of the sign."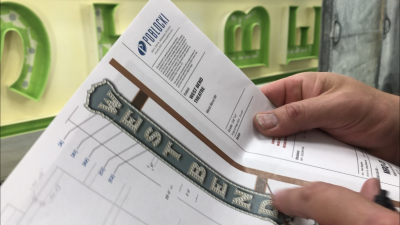 "We took a chip of the original paint and put it under the spectrophotometer which gave us a computer analysis and spectrum of the color," Kaminski said. "The computer generated an exact match."
Kaminski said we were standing in a "heated booth" and the final coat would be "baked on like painting a car."
After watching the start of the painting process the fumes from the spray paint forced us out of the area and we watched through a window in the door. Poblocki's Cindy Wendland said the staff knew we were coming so they cleaned off the window for a clear view.
Up next, after the paint dries the tunnels in the letters will be painted and electronics will be installed.
The sign is expected to be returned later this summer as the Historic West Bend Theatre undergoes a major renovation.