VIDEO | Military tribute and flag presentation to the family of veteran Robert Henschel
March 9, 2019 – West Bend, WI – More than 100 people stood silently in the back parking lot of the V.F.W. on Sand Drive in West Bend to pay their respects to veteran Robert Henschel.
The West Bend Color Guard fired a three-round volley and then sounded Taps.
A folded U.S. flag rested on the same table as a simple box holding Henschel's ashes.
Two members of the military performed the ceremonial unfolding and refolding of the flag. The purpose is done as a lasting tribute to the family as the flag previously draped the casket of the deceased veteran.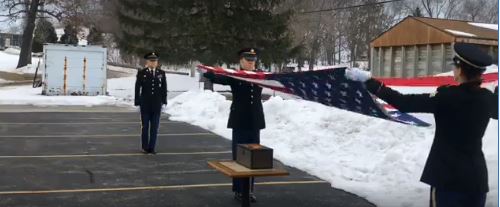 According to Flag Protocol
The flag is placed on a closed casket so the union blue field is at the head and over the left shoulder of the deceased.

After Taps is played, the flag is carefully folded into the symbolic tri-cornered shape. A properly proportioned flag will fold 13 times on the triangles, representing the 13 original colonies. The folded flag is emblematic of the tri-cornered hat worn by the Patriots of the American Revolution. When folded, no red or white stripe is to be evident, leaving only the blue field with stars.

It is then presented as a keepsake to the next of kin or an appropriate family member.
During the presentation of the flag to the family the following is said.
'On behalf of the President of the United States, (the United States Army; the United States Marine Corps; the United States Navy; or the United States Air Force), and a grateful Nation, please accept this flag as a symbol of our appreciation for your loved one's honorable and faithful service.'
Henschel, 70, was struck by a hit-and-run driver on Feb. 21. Henschel had been vacationing in Florida when the accident occurred. The Florida Highway Patrol said Henschel had run out of gas and was talking to a woman on the side of the Beachline turnpike when he was struck by another vehicle.