VIDEO | Museum of Wisconsin Art secures $12,500 tourism grant from City of West Bend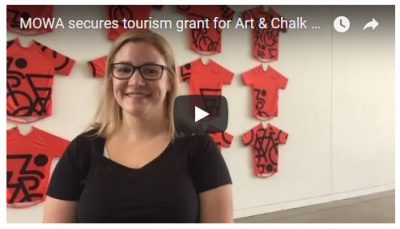 June 5, 2018 – West Bend, WI – The City of West Bend Tourism Commission recently handed out $15,000 in tourism grants.
The Museum of Wisconsin Art secured a $12,500 grant for its upcoming Art & Chalk Fest, July 28 and 29.
"We applied for the grant in May and we put together a marketing plan that showed how our event would bring people to the city and especially how the event would encourage people to spend the night," said MOWA Director of Communications and Marketing Jessica Wildes.
"We're really excited to be awarded the grant and it will really help cover our marketing budget with ad placements in Chicago and Madison."
There were four proposals reviewed by the West Bend Tourism Commission.  Another local entity to receive money was Habitat for Humanity and Germanfest in August.
Over 10,000 people attended the inaugural Art & Chalk Fest in 2017. "This year we've already received over 16,000 RSVP's on our Facebook page and we can feel the momentum is building for the event," said Wildes.
In its application MOWA described the Art & Chalk Fest as:
MOWA's Art & Chalk Fest is a celebratory weekend of art and an opportunity to feature all that West Bend has to offer. The festival will take place on the museum campus July 28–29, 2018 with an anticipated audience of 15,000+ visiting downtown West Bend over the two-day period. Festival hours are 9:00–5:00 on Saturday and 10:00–4:00 on Sunday.
The festival is the largest of its kind in Washington County. MOWA's parking lot turns into a canvas for artists to create unbelievable ten foot by ten foot masterpieces in chalk that dramatically unfold throughout the weekend. The area surrounding the chalk artists offers activities for all ages. This year, the festival will expand to Veterans Avenue to accommodate more festival fun.
MOWA explained in its grant proposal how it would use the grant to benefit other entities in the community.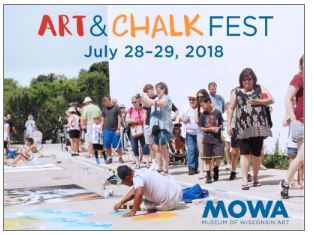 5. What is your marketing plan for this project/event?
The MOWA marketing department takes an active approach to promoting Art & Chalk Fest within the region to drive day trip and overnight leisure visitors. This is accomplished through a multi-channel approach. Please see the attached Art & Chalk Fest 2018 Marketing Schedule.
In addition to paid promotion, MOWA will aggressively seek unpaid editorial opportunities in regional newspapers, magazines, and online sources. Midwest Living sent a scout to the 2017 event and is including an article with image in their July 2018 issue. This type of editorial content helps raise awareness without additional advertising revenue.
6.  Will your project/event be used to increase traffic to other city venues?
Yes. One of the primary goals of Art & Chalk Fest is to attract visitors to West Bend not only for the museum and event, but for the entire weekend to shop, dine, stay in hotels, explore the Eisenbahn State Trail and Milwaukee Riverwalk, and enjoy all of the fantastic amenities that the city offers. The festival was designed to be something truly unique that would draw visitors from more than 150 miles of West Bend, which includes Chicago, Rockford, Madison, Oshkosh, Appleton, Green Bay, Sheboygan, Milwaukee, Wausau, Dubuque, and more.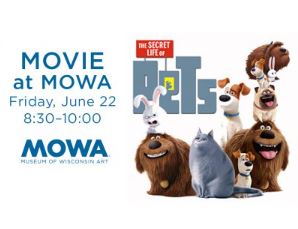 7. In what way will your project/event increase traffic at local businesses and benefit the community?
Art & Chalk Fest will increase traffic at local businesses through exposure in marketing and sponsorship materials, direct communication, and the ease of access to shops, restaurants, and hotels. MOWA is working with various downtown businesses to build partnerships that will maximize their exposure. For example, the Hampton Inn & Suites has offered a special Art & Chalk Fest event discount on rooms in exchange for promotion on the event website and social media. Other types of partnerships include food donations from local restaurants, in-kind media trades for maximum event exposure, and personalized sponsorship opportunities for businesses to present their brand.
MOWA has worked closely with the Downtown West Bend Association (DWBA) to partner in promotional efforts. In exchange for the DWBA helping provide tents,
stanchions, and more, the museum will host a table at the July 28 Farmer's Market and the DWBA will man one of the Art & Chalk Fest information booths to distribute downtown maps and other materials to directly communicate with visitors about the plethora of opportunities within walking distance in downtown West Bend.
The festival intentionally features only a handful of select food vendors with the purpose of directing visitors to West Bend restaurants. MOWA's primary focus with the event is the art experiences: artist booths, chalk artists, art making activities, and the museum.
The museum recognizes that this is not a food event, though there are some vendors, and encourages visitors to explore nearby cafes, restaurants, and taverns.
MOWA's close proximity to downtown West Bend is ideal for driving traffic to nearby destinations. Festival goers can see there's more across the bridge within walking distance. MOWA's location in the city center also encourages visitors to stay in a local hotel to experience both days of the festival and more fully explore West Bend.
In 2017, MOWA solicited feedback from several downtown business owners and the response was overwhelmingly positive and consistent in that they received increased traffic, sales, and visibility during the festival.
The remaining $5,000 from the Tourism Commission will be put into its account for future tourism promotion opportunities.
Photo courtesy Kaylee Goodman