VIDEO | Part II Promposal – Did Morgan say yes?
May 5, 2017 – West Bend, WI – West Bend West High School senior Adam Newell stood under the Toucan Custard sign on  N. Main Street in West Bend waiting to pop the prom question to his girlfriend Morgan Mueller.
And in typical female fashion… she kept him waiting.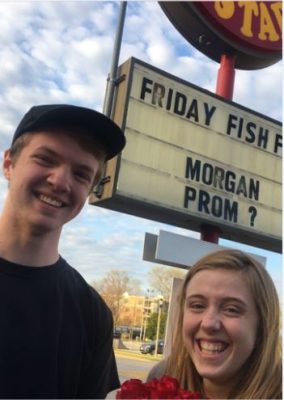 "She's coming in from Cedarburg and now she just texted she's stopping at Starbucks," said Newell.
The 18 year old returned to his perch with a bouquet of red roses in hand nervously waiting.
Across the parking lot, attempting to look disinterested, were the owners of Toucan, friends, and customers with cell phones in hand waiting to video the big promposal.
Just killin' time the Moehr family relayed stories about how Newell wanted to hide a note in a cup of custard and ask Morgan that way. There was a flashback to another proposal where a guy hid an engagement ring in some custard.
Eventually Morgan spun into the parking lot and the scenario played out.