VIDEO | Taking a look back at the May 10, 1990 snowstorm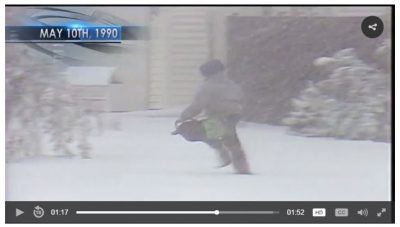 May 10, 2017 – Hat tip to Ruth Marks for planting the seed on what occurred 27 years ago today on May 10, 1990.
It was late spring, baby birds were in the nest, trees and plants were blossoming and Mother Nature decided to heave 10 inches of heavy, wet snow into our lap.
Below are Ruth's memories… what are yours?
I well remember this storm. I was working 3rd shift at A.O. Smith the night it hit. It was mostly over by the time my shift ended at 7am. first shift came in with stories of all the leafed trees splitting under the weight of the snow. I was easily able to drive out from Milwaukee but exiting the highway was a very different story. I41 was not yet freeway status. The Highway 144 exit was filled with cars and trucks spun out and unable to get up the hill. I exited at Cedarview Road but soon could go no further due to very deep snow that was not yet plowed. I abandoned my car with the intention of walking the rest of the way. But a very kind man with a 4-wheel drive vehicle took me a number of miles to my door. As was my habit, I went right to sleep. When I woke up to a very warm afternoon, most of the snow had melted. I called my mom to pick me up and take me to get my car.
Below is a nugget from the National Weather Service

Click the video above to see a report from wearegreenbay.com