VIDEO | Thanks for participating in the 2nd annual Shred Event at Bergmann's in Slinger
April 22, 2018 – Slinger, WI – The weather was a bit colder than last year but neighbors sure did line up for the 2nd annual Shred Event at Bergmann Appliance in Slinger.
"You just missed it," said business owner Ed Bergmann. "The parking lot was full and there was a huge line."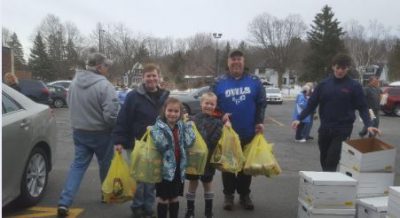 That was within 20 minutes of the 9 a.m. start time. Folks lined up with boxes and bags of old paperwork and then made their way to donate food items or draft a check for the Slinger Community Food Pantry.
"We're way ahead of last year," said Bergmann about the amount of people participating.
Last year the event shredded 2,500 pounds of paper and collected $2,100 for the Slinger Food Pantry.
Final totals from this year will be posted when the information becomes available.
Watch as Ed gives it the ole' college try as he says 'thanks' in the video.  PS – pay attention to the kid shout out at the :11 second mark. Ed's a pro… he takes it in stride.