VIDEO | Thanks for supporting 25 Runs of Gratitude for United Way of Washington County

Dec. 26, 2018 – Washington Co., WI – Today I completed 24 years, 360 days of not missing a day of running. That's 9,125 days in a row and run No. 21 of the 25 Runs of Gratitude.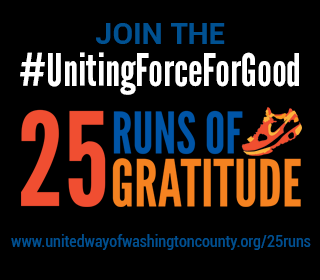 It's hard to imagine these Runs of Gratitude have been going on for three weeks as of today. The time has went very fast and the weather has been incredible. I thought for sure there would have been a couple of below zero runs during the 25 runs, but to this point, except for a little ice, it has been smooth sailing.
I always get nervous after I send out the invite for the end-of-year party. I always feel like I am going to jinx the streak. I will be very satisfied to make it to December 31, after that I will certainly keep the streak alive as long as I can, but 25 has been a great run.
My dream was to do something big this year and with the help of Kristin and Judy we have accomplished that dream. I am very happy that Kristin believed in my dream and then between her and Judy, did all of the legwork needed to make this a success.
Today we ran for the Youth and Family Project. My son Jack and daughter Maddie joined me again for the run. I ran the entire route with Lisa Heider and her daughter Elizabeth. Lisa is on the Board of Directors for the Youth and Family Project and loves to run. She was a bit surprised on the run today as her normal runs have little to no car traffic and we dealt with cars the entire run. Lisa normally runs about four miles a day so our 2.25 mile route was a breeze for her and her daughter. Elizabeth attends the University of Wisconsin Madison and is also an avid runner and former athlete at Kettle Moraine Lutheran. Another Board member, Jason Loomans, showed up with his daughter Tessa for the start, but they decided not to run with us today. Jason is a colleague of mine at Moraine Park Technical College and I have known him for a couple of decades.
Emily Greene, the Executive Director of the Youth and Family Project ran with us at the start and provided me with the following information about their United Way funded program titled the Crossroads Youth Program. The Crossroads Youth Program provides free counseling and art therapy services to children and youth in Washington County. They partner with colleges and universities in the area that offer human services-related graduate programs (art therapy, counseling, social work, clinical psychology, etc.). Graduate student interns, provide services at public schools in Washington County. This helps eliminate barriers to mental health services for our youth, such as cost, insurance coverage, and transportation. Many of the children and youth that the Crossroads program serve have experienced trauma, mental health issues, and family conflicts. They often feel isolated and alone in their challenges. Their team members are able to meet them where they're at and greet them with hope.
The Crossroads Youth Program is what originally drew Emily to the agency. In September of 2012, she became a graduate student intern while she was seeking her masters in art therapy. Emily then served 2 years as an AmeriCorps member for the Crossroads Youth Program. After that, she was hired by the Youth and Family Project as the Crossroads Youth Program Coordinator and in March 2017 promoted to Executive Director. The last few years the Agency has gone through some tough times but both Emily and Board member Lisa were grateful that they once again had the support of United Way. Washington County should be grateful for the Youth and Family project and the Crossroads program.
Today's sponsor was Clinicare Corporation. We would like to thank Clinicare along with all of our other wonderful sponsors.
Thursday, Dec. 27 we run for the Workforce Development Center located on the Moraine Park Technical College Campus.
The run starts at 8 a.m., see you then!