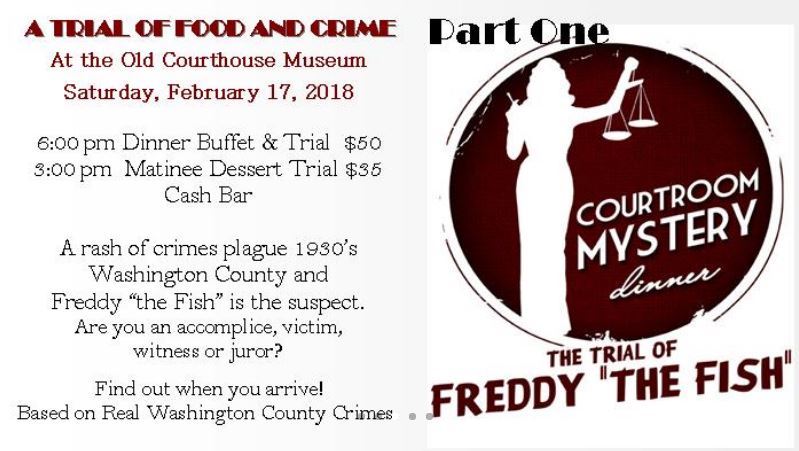 West Bend, WI – The Trial of Freddy "The Fish" is coming to the History Center of Washington County. This is an interactive 1942 Courtroom Mystery centered around the trial of fictional gangster Freddy "the Fish."
WHEN: February 17, 2018  – Matinee Dessert Trial 3 p.m.
                                              Dinner Buffet and Trial 6 p.m. – 8 p.m.
WHERE: Old Courthouse Museum 320 S. Fifth Ave  West Bend, WI 53095
COST:$50 for Dinner Buffet & Trial.
          $35 for Matinee Dessert Trial
CONTACT: Patricia 262 335-4678
A rash of crimes have been haunting 1930's Washington County and it is believed Chicago Gangster Freddy "The Fish" is responsible. Judge Andy Gonring will preside over this unique interactive evening where each guest is a victim, witness, juror or  "friend" of Freddy's.
Period dress is popular and encouraged.  Based on real crimes and historical characters, and locations in Washington County and beyond.
Doors open at 5:30.  The Dinner Mystery Trial tickets include a buffet by Catering by Bryan with salmon, bacon wrapped pork tenderloin, red potatoes, green beans, baby carrots, tossed salad and dessert.  Includes ice tea and coffee.  Cash bar.
The 1898 Old Courthouse in West Bend is the setting as guests enjoy a buffet dinner and mingle with Freddy "the Fish" and other characters.