March 3, 2021 – West Bend, WI – The drop ceiling was open exposing the air vents, long yellow wires hung around the room like vines, and a couple 2 x 4's were all that stood between Kevin Zimmer and a room of treasures from the past.
There were jokes about finally finding Jimmy Hoffa as Zimmer, armed with a crowbar and determination, set to work opening a door uncovered during the remodeling demolition of the old dining room at Wallace Lake Supper Club.

"There's definitely a gap in there," said Zimmer as he reached behind a metal vent in a four-panel door on the east wall. The yellowed MEN sign was for a bathroom. "It's kinda cool."
During the exterior remodel of the building Zimmer remembered the area.
"When I did the excavating I thought it was a stoop or an entrance and now we know it was the foundation for a bathroom," he said.
Zimmer muscled the crowbar around the door frame, looking for a good leverage point to peel away the barrier holding tight a secret entry.
It has been a little more than a year since Amy and Kevin Zimmer purchased the former Walden – A Supper Club on Feb. 7, 2020.
Since then, a major remodel has taken place with a new facade, expanded dining room, and some treasures hidden throughout the building.
As the dry hardwood cracked and splintered, Zimmer addressed the elephant in the room.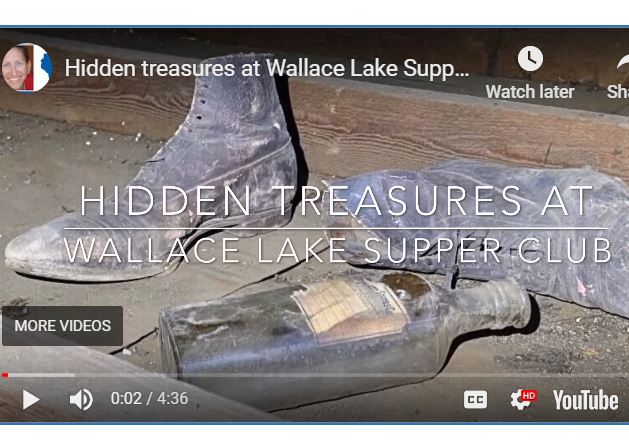 The wallpaper was a faded retro rainforest of bamboo. Some historical guesses were made on what era the wallpaper would have been popular.
The iconic business along the shores of Wallace Lake was once known as White Oaks Resort. It also called Benike's after owners George and Carol Benike; they purchased the club from Dorothy and Nick who ran it as Dot's Club in the 1970s.
A couple more heaves on the crowbar and Zimmer cracked the panel out of the door, clawed out some gross, pink /black insulation and came face to face with concrete block.
"They probably took the time capsule out when they put the vent in for the new AC," he said.
Although emptyhanded, Zimmer was not discouraged. "That would have been so cool… but, we have all this wall to take out."
Across the room… more treasures including a main electrical line buried in a groove carved into the drywall and then covered with wallpaper.
There was also a simple white-and-red vintage wallpaper underneath the bamboo print and under that tongue-in-groove wood paneling. "It's another whole layer under here," he said.
"We still have so much left to find; this is the fun part."