August 29, 2021 – Rubicon, WI – Just had to share the write up for Warren Abraham Feutz, 66, of Rubicon who passed away Thursday August 26, 2021. This is one of the best tributes to a man's life I've ever read. Courtesy Shimon Funeral Home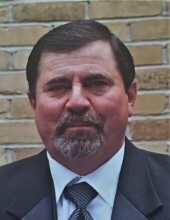 Warren was born June 28, 1955 in Hartford and was the youngest child of Marcella Ruth (nee Dinkle) and Edwin Feutz. He is survived by his loving wife Cathy, children Amber (spouse Darrin Schauer), Ashley (spouse Sam Kuhaupt), Allen (spouse Aleya); grandchildren Brayden, Makenzie, Benjamin, Callie, Kinsley and Everly. He is survived by his older brothers Jerry Feutz, David Feutz (wife Jan) and sister Barbara Brown. He is further survived by his mother-in-law, Betty Langer, brother-in-law Steve (Sheryl) Langer, nieces and nephews. Warren was preceded in death by his father Edwin, mother Marcella, father-in-law Calvin Langer, brother-in-law Bob Brown, and sister-in-law Katherine Feutz.
Those are the facts, but Warren was much more. To try and explain in words the way he made people feel is a tall task. Loving husband, brother, father, grandfather, farmer, friend to all he knew, and even those he didn't.
We often hear the phrase, "He'd give you the shirt off his back" but for Warren this was literally true (we have pictures). The Feutz's grew up on the family farm on Paine Road, and to this day all the sons live in a place many of us simply call Feutz Valley. The rolling hills and fields near the Rubicon river are reminiscent of family life in the old country, Switzerland.
Small dairy farm families, living off the land, unfortunately are not as common as they were in the 60's and 70's to our country's loss. But the hills could also be dangerous. The family lost their dad to a tractor accident at age 43.
Eight-year-old Warren was on the tractor with him, but was fortunately spared. Marcella and Jerry stepped up to lead the family. Warren made a vow to carry on his mother's love of trees, preserving acres of woods behind his home and planting trees over the years. It mattered to him that the land and his parent's legacy was preserved and respected.
Growing up the boys learned hunting, fishing, and a passion for baseball (which Warren passed on to grandson Brayden). Also, unusual for a Feutz (since their grandfather Abraham Feutz directed the Hartford City Band) Warren never learned to play an instrument, much to his dismay.
In Hartford High School he was an enthusiastic member of the football team and met the love of his life Cathy Langer. After graduating from Hartford High School in 1973 he went to tech school, earning an associates degree in body work. Most of his skills were lavished on his '69 mustang.
Warren and Cathy would marry in October of 1975. The newlyweds lived in an apartment on Wheelock Avenue, which proved handy when the Ice Storm of 1976 put most of Hartford out of power for 2 weeks, Warren and Cathy still had heat and water. It was at this time Warren decided farming was the life for him, he went into partnership with Jerry, and he and Cathy built the family home in its current location to have and raise children Amber, Ashley and Allen.
Anyone raised around farms knows it's not easy. Cows never take a holiday, and additional odd jobs are added to the schedule to supplement the milk check. Warren used to haul oil products for Gutschenritter Oil and scrapped metal with brother Jerry.
Sometimes this meant the kids did not see as much of dad as they would have liked, so Warren came up with a family project they could all share; this is when Feutz' Sweet Corn was born! Warren took great pride growing the best sweet corn, but had a difficult time accepting the compliments people would give him.
Warren enjoyed bowling, fishing, and trap-shooting. It also turned out Cathy and Warren shared a love of fast driving, so snowmobiles it was! From 1974 to 2010 Cathy and Warren were regulars on the snow pro circuit and have the trophies to prove it. By 2000 the kids were either in or nearing high school, and father and mother in-laws Cal and Betty Langer built a lake cabin near Eagle River which was a warm water retreat in the summer and a home base for the winter Eagle River snowmobile races.
As a husband and father, Warren was a strong role model to them all. He taught to always care for others, have empathy, and work hard. He taught the kids how to handle the ups and downs of life, and through those difficult times, we always knew that dad was there for us. All the children learned to drive as soon as their feet could reach the gas pedal, and then every vehicle on the farm was soon to follow. Even when Allen would get the 4-wheeler stuck for the sixth time that day, dad would… Click HERE to finish the story.
Please share leave a condolence or share a memory with the Feutz family at www.shimonfuneralhome.com