Washington Co. weekly updates by Joshua Schoemann
Governor Walker Bill Signing –

On Tuesday we were pleased to welcome Governor Scott Walker to the "Old Courthouse" for the bill signing of AB657, which increases funding for Treatment Alternative Diversion (TAD) grants, and AB 839, which creates a Sobriety Program for convicted drunk drivers.  The event was an excellent opportunity to feature the "Old Courthouse", and to welcome state legislators and other guests from all across the State of Wisconsin to Washington County. 

Thanks to Governor Walker and his staff for making Washington County a part of this exciting event!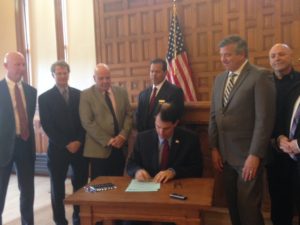 Supervisor One-on-One Meetings –

Meetings continue with three more this week and only three remaining. Supervisors, if you are one of the three remaining, please work with Judy

[email protected]

to coordinate our calendars before the May 10 County Board meeting.  Thank you for helping to contribute to these important and informative communication opportunities!
New Supervisor Orientation and Tour –

Orientation took place on Monday, April 25 with the majority of Supervisors in attendance.  Some supervisors took part in a brief tour.  Supervisors are encouraged to contact me if interested in touring any of the County facilities.
SEWRPC Reliever Route Meeting –

This week Tuesday hosted a Reliever Route meeting with officials from the Town of Hartford.  Town Chairman Strupp was very accommodating and provide a nice perspective, as well as some interesting alternatives for consideration. SEWRPC staff informed Scott and I that they were working on dates for both the Town of Polk and Addison, as well as Dodge County Towns. I will continue to report as these meetings occur.
Meeting with Ozaukee County –

We had another positive meeting with Ozaukee County as we continue to integrate the merged Health Department.  This week's meeting worked through the details of Information Technology management.  The consensus of the meeting was that Washington County IT staff is better positioned to handle the merger, and thus will be working through implementation of equipment, policies and hardware/software reconfiguration.  Although it is likely that not ever "I" will be dotted, or "T" crossed by July 1 we do have the necessary direction to make this integration happen in 2016. Special thanks to Eric Damkot and Dawn Sericati for their extra efforts to make this complex IT discussion manageable!  
Core Value Employee Contest Winners – County employees provided many excellent ideas for the Core Value promotion contest.  Though extremely difficult to choose the winners from the multitude of great ideas, the winners are:  Sadie Beacham from Human Services with "Fun with Hashtags." When posting a comment on the Washington County Facebook page you can post a hashtag at the end with #corevalues or #washcorevalues; Sara Truse from ADRC suggested "Fish Bowl Nominations" where employees can nominate a co-worker when they see them doing something that exemplifies a core value and Kristine Costa from Human Services and Melody Skellett from Facilities with the "Mouse Pads/Window Clings" idea to have the core values on them as a frequent reminder to employees.
Personnel
Welcome!!
·         Todd Weill, Summer Help – Planning and Parks Department
·         Richard Vollmar, Summer Help – Planning and Parks Department
·         Wayne Goodwin, Summer Help – Planning and Parks Department
Moving On…
·         Donna Kultgen, Clerk of Courts – Retirement
Active Recruitments
Activity Aide, CNA,  Dietary Aide,  LPN, Registered Nurse, RN Relief Supervisor – Samaritan

Mental Health Specialist/Crisis Intervention, Psychiatric Social Worker, Senior Social Worker, Social Worker – Human Services Department
Administrative Intern – Administration Department
Summer Employment – Facilities
Aquatic-Invasive Species Project Intern– Planning and Parks

Accounting Clerk, Corrections Officer – Sheriff's Department

Clerical Pool – Human Resources
CONGRATULATIONS to the following employees for their years of service at the County!!
10 YEARS
Paul Backhaus – Planning and Parks Department
15 YEARS
Cindy Leinss – Planning & Parks Department