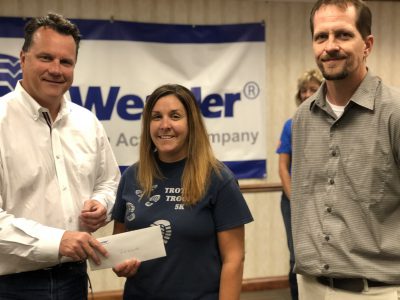 Sept. 4, 2018 – Washington Co., WI – The staff at Weasler Engineering made a strong donation to Trot for Troops; the local organization supports military and veteran-centric programs.
Money was raised during the annual Weasler golf outing and a check for $14,000 was presented to Jodi Brandt and Trot for Troops.
"Weasler has donated in the past and the locally-owned company has been extremely generous," said Brandt. "All money raised goes to veteran-centric organizations."
Last year Trot for Troops donated money to the USO and a youth scholarship program for children whose parents are in the military.
This year's Trot for Troops 5K is Sept. 8 at Riverside Park.
Trot for Troops is a 5K fun run/walk held as a benefit for military members, veterans, and their families. 100% of the proceeds raised by this event will be donated to groups that exist in support of military and veteran-centric programs focusing on local veterans and military members. Many local troops have just returned from deployment so please join us in welcoming them home. Come out for a nice morning jog to support the troops and veterans alike.  We will continue our Kids Quarter, a quarter mile race around the park, this year.
Click HERE for more details.