West Bend H.S. sophomore headed to nationals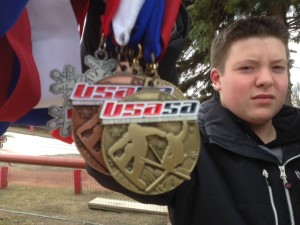 Hi my name is Hunter Zaskowski and I am a sophomore at West Bend East High School. I have been a member of the United States of America Snowboard and Freeski Association (USASA) since 2013. 
I have qualified and competed in USASA National Snowboard Championships since 2014.  I am a member of Midwest Best Snowboard Series where I started off competing in all six events (Giant Slalom, Slalom, Boardercross, Rail Jam, Slopestyle, and Halfpipe). 
I decided after a lot of training that I really liked racing. I didn't want to risk injury when my true passion was going fast.  Next week Thursday my family and I head to Copper Mountain in Colorado for my third year of national events.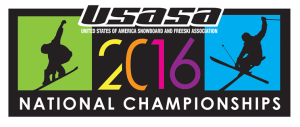 For Midwest Best, I am series champion in all three events (Boardercross, Giant Slalom and Slalom). I owe it to my series coaches Brian Wilson and Dylan Jansen.
Depending on weather, conditions and competitions, I practice four days a week during the season. My home hill is Sunburst but I compete also at Tyrol Basin in Mount Horeb and The Rock.  Each hill offers something a little different depending on what events are scheduled.
This year our West Best School District approved a high school snowboard team.  It was so awesome to not only compete with classmates but help represent my local high school. Our high school is a part of the Metro Milwaukee Conference and I was conference champion in all events with about 32 racers. 
WBHS qualified for State where I placed 2nd in Giant Slalom out of about 70 athletes.  There were all skill levels and we had a lot of fun.  I hope more kids join team next year.  Even if you have never been through a race gate, no problem, we will show you.
Another cool thing was I raced at the Mount LaCrosse Cup High School Invitational Snowboard Meet representing West Bend East.  There were about 65 racers where I placed second and third in Giant Slalom, and fourth in Slalom.  I stayed for the awards to support all the other riders to find out I was overall champion for the fastest combined time and ended up on the podium.  I was so surprised.  It was a really cool experience.
My family supports me a lot and they never miss a race, but I did work really hard to pay for my own boards.  My best purchase yet is a Donek Saber which is specifically designed for racing. Racing is not just about a good course inspection, determining the best line to run, and of course waxing for conditions, but your equipment.  It treated me well this season so hoping for the best at nationals.
Outside of snowboarding I am on the High School Trap Team and enjoy hunting, fishing, mountain biking and water sports.
Looking forward to hitting the slopes on about 30-inches of fresh powder.