West Bend Noon Kiwanis Club gearing up for 40th annual Steak in the Park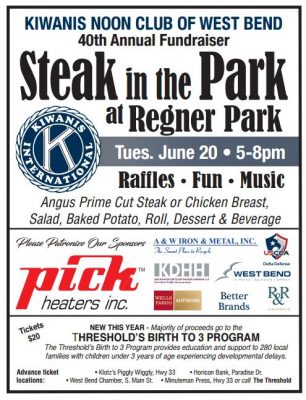 June 19, 2017 – West Bend, WI – Don't miss the chance for some great food tomorrow, Tuesday, June 20 at Regner Park as the West Bend Noon Kiwanis Club holds its 40th annual Steak in the Park fundraiser.
Proceeds will be generously designated to the Threshold's Birth to 3 Program.
There will be steak or chicken dinner, raffles, music, fun for only $20 per person.
You can TAKE YOUR MEAT HOME AND COOK IT YOURSELF, and take all of the sides if you choose.
Come out and support the 280 families served whose children are experiencing developmental delays.
Tickets are available at the Threshold, 600 Rolfs Avenue in West Bend.
Please call the Threshold for more information or reserve your tickets today, 262-338-1188, extension 0.
Thank you for supporting our local children. Hope to see you there.