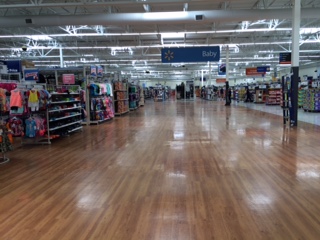 If you've been inside the West Bend Walmart, 1515 West Paradise, you've noticed work being done on the floors adjacent to the grocery area and other wide-open spaces, especially in the center of the store.  The store co-manager said nothing had been done to update the store since it opened in 1998.
The West Bend Walmart is now undergoing a full remodel, including all new tiles and new touch-screen registers to speed up checkout.  All self-check registers will be moved into the same area for better and easier  oversight. This congregates the self-check area to one side of the store rather than on both ends as is the current arrangement. Nearly all departments will be updated in a manner similar to other Walmart stores; only groceries will remain in the same location. New racks and decor will be installed throughout the entire store.
Customers will be able to see the changes during the Grand Reopening of the West Bend Walmart scheduled September 30.