West Bend, WI – West Bend Children's Theatre, Inc. will celebrate its 90th anniversary with the presentation of the delicious, mysterious musical Willy Wonka in April 2023.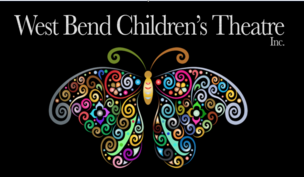 West Bend Children's Theatre, Inc. was conceived in 1933 by the West Bend Women's Club and until a few years ago, all parts were played by women.  Now you will see women, men, and children of all ages on stage delighting audiences of school children and their teachers, families and theatre supporters. It is not unusual to hear a parent or grandparent say, "I came to their plays with my class when I was in grade school."
Directing Willy Wonka will be Lindsey VanderWhielen and Nick Theisen. VanderWhielen has experience in in all phases of theater, directing, acting, backstage as well as film and television.
She works at Holy Angels Catholic Church in several leadership capacities.  Thiesen's past includes acting and co-directing and was a performer in the 2019 WBCT presentation of Madagascar. He is an assistant manager at Stein's Garden Center. Their experiences and mutual love of theater will provide a unique collaboration.
West Bend Children's Theatre is the oldest continually running community theatre group in the area, dating back to 1933.  It is a nonprofit 501(c)3 organization with the mission of presenting an annual, live musical theater experience to area school children as well as awarding scholarships to local high school seniors.
Visit childrenstheatre.com for more information and the January audition dates.