West Bend, WI – "I want to live to be 100," said Allan Kieckhafer on Christmas Eve, the day before his 98th birthday.
As a proud Navy veteran, Kieckhafer spent over 40 years as a member of the Memorial Day services committee for the City of West Bend and performed the role of Master of Ceremonies for many years.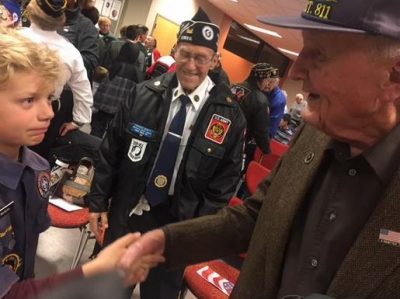 Kieckhafer established Boy Scout Troop 780 at Fifth Avenue Methodist Church and continued working on behalf of the Boy Scouts for over 50 years as President of the Badger Boy Scout Council and a Trustee for the Bay Lakes Council.  He was awarded the Silver Beaver award for his outstanding service to the Boy Scouts.
Perhaps Kieckhafer's most visible contribution can be found at the Museum of Wisconsin Art, where he served as a Board member and a major contributor to the new building, which includes the Jean and Allan Kieckhafer Gallery.
Additionally, he was instrumental in founding the University Ambassadors council at the University of Wisconsin in Washington County. He served as the Council President in 1975 and continues to act as an ambassador at the campus.
Kieckhafer has also volunteered as an ambassador and a member of the Executive Board for the West Bend area Chamber of Commerce.   He is an active member of the Noon Rotary Club of West Bend and has received 10 Paul Harris awards for his support of the organization.
A life-long resident of West Bend, Kieckhafer spent 38 years at the West Bend Aluminum Company working in sales management.  "Allan has done so much for our community," said Nancy Mehring, who worked with Kieckhafer at the West Bend Aluminum Company.  Mehring, a previous award recipient and member of the selection committee, stated that Kieckhafer was "always a gentleman, always dedicated, always kind."