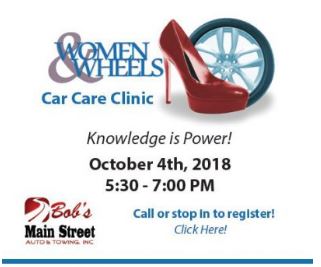 West Bend, WI – Mark your calendar for Thursday, Oct. 4 and the Women & Wheels Car Care Clinic.
Learn about how to check your tires, what's that engine under the hood, how brakes work and the best advice on changing your oil.
The ASE certified technicians from Bob's Main Street Auto will be on hand to answer all your questions and have some fun at the same time.
The event will be held from 5:30 p.m. – 7 p.m. at the shop, 1200 N. Main Street in West Bend.