WWII Navy vet Edward Burke on the next Honor Flight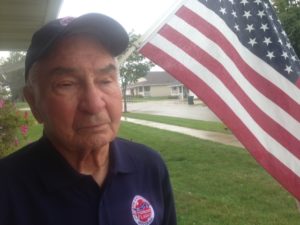 Edward Burke, 88, of Hartford will be one of five veterans from Washington County on the Sept. 17 Stars and Stripes Honor Flight to Washington D.C.
Burke served in the Navy during WWII.  "I was at Pulaski High School in Milwaukee and enlisted when I was 17," Burke said. "The Navy gave a bunch of high school seniors a test and I passed and it said we were suitable for training."
Burke went to Great Lakes, Illinois for basic training where he pursued radar repair. Stationed at Wright Junior College in Chicago the Navy eventually shipped Burke to the west coast. "It was 1945, the war was over and the military didn't know what to do with us," he said.
While on the coast, Burke served on a sea-going tug boat. He became ill and by the time he got out of the hospital the tug had left.
Burke later found himself sailing out of San Francisco to Hawaii. "We were called the Magic Carpet Fleet," said Burke referencing Operation Magic Carpet which was a post WWII effort to bring military personnel home. "We went to Hawaii and brought back people from the war zone and we took others over there to replace some."
Burke said they made two trips on the U.S.S. Arthur Middleton AKA 25 and then the military "decommissioned our ship in Norfolk, Virginia."
In the Navy for about "one year exactly," Burke was discharged, returned to the Milwaukee area where he made his way to West Bend and bought a small farm in 1958.
Burke said he's excited to be going on the Honor Flight. His guardian is his granddaughter Allison Dunavant.