August 23, 2021 – West Bend, WI – Margaret Borchardt doesn't understand what all the fuss is about.
"A big day? Yes… it's my birthday today and I'm 100 years old," she said. "It is unbelievable. I don't know if there is a secret to getting this old… it just happened.
Borchardt is a resident at The Waterford in West Bend.
Born in Milwaukee on August 23, 1921 to Christine and Peter Borchardt.
Margaret doesn't recall what hospital she was born at. "Maybe it was at home on the kitchen table," she said. "I don't know."
A middle child, Borchardt had one brother and two sisters.
While growing up Borchardt belonged to St. Gall's Church in Milwaukee on 3rd Street between Clark and Center. "I went to Riverside High," she said. "I worked at the City Hall in Milwaukee in the comptroller's office as a keypunch operator.
"It was during the Depression so it really was great to have a job."
Photo courtesy Lisa Kudek
Click HERE for a historic photo of St. Gall's Church in Milwaukee
Borchardt enlisted in the Army in 1942 when she was in her 20s. "I did it because it was something new for women and it gave women a little importance and I thought I always wanted to be a nurse and when they said women could join the medics I thought that's for me," she said.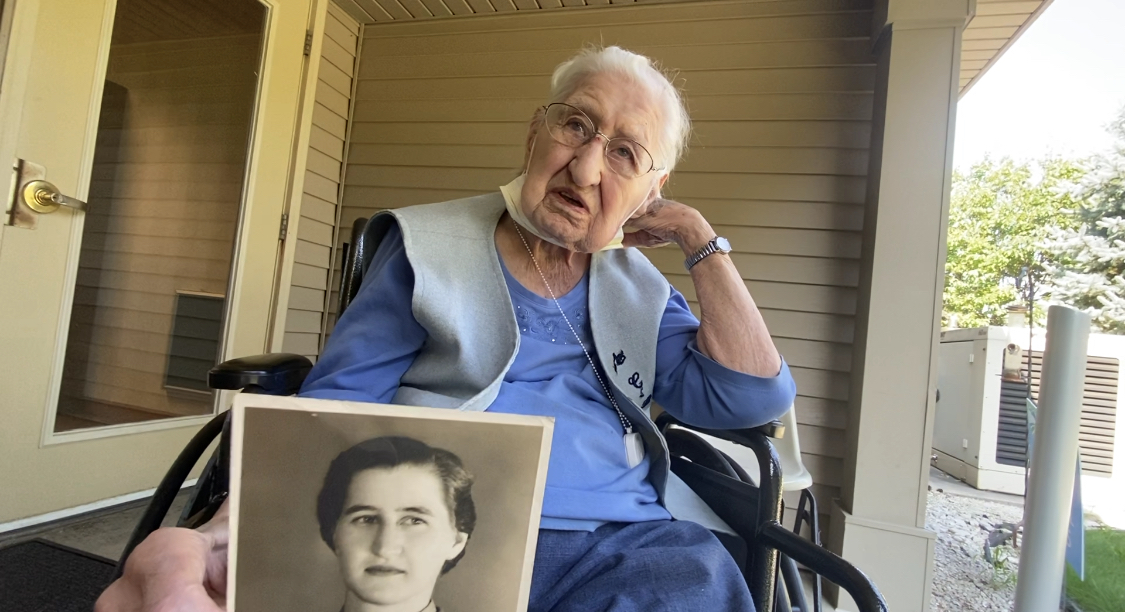 "My brother was in the Navy and so I thought I'd join. My mother wasn't too sure; she thought it was kind of risky. She didn't make a big deal but we knew she was concerned."
Basic training was at Fort Des Moines, Iowa.
Spurred on by the attack on Pearl Harbor on Dec. 7, 1941, Congress approved the creation of WAAC on May 14, 1942. President Franklin D. Roosevelt signed the bill into law. WAAC was established "for the purpose of making available to the national defense the knowledge, skill, and special training of women of the nation." Courtesy www.army.mil/women/history
Borchardt said she arrived in Iowa either by train or bus. "Our training consisted of learning to march," she laughed. "I did office work for the most part until I went into the medics and worked at the hospital."
Borchardt was initially in the machine records unit for a year before becoming a medic for two years. She recalled her duties included making beds, changing dressings and giving blood.
"They'd make an announcement when they were bringing fellas in from the field that if anyone wanted to give blood they should and we'd go," she said.
Borchardt was stationed for a year in Dallas, Texas and then at Camp Polk Louisiana.
After the service Borchardt served in the Army Reserves. "Every summer for my two weeks training I'd go up to Camp McCoy and I did that for 20 years," she said.
Borchardt returned to her job at Milwaukee City Hall and worked there until she retired. Never married, Borchardt lived in an upper flat with her baby sister Jane in a duplex on Pierce Street in Milwaukee; her parents lived in the lower level.
"For fun, we would go bowling," said Borchardt.
If you would like to send Margaret a birthday card mail it to:
The Waterford 831 E. Washington Street, West Bend, WI 53095