August 11, 2022 – Washington County, WI – Margaret Krebs of West Bend is turning 100 years old and one of the remaining goals on her bucket list is to work at a hardware store. That is exactly Krebs' wish – and it's coming true Thursday, August 11, 2022.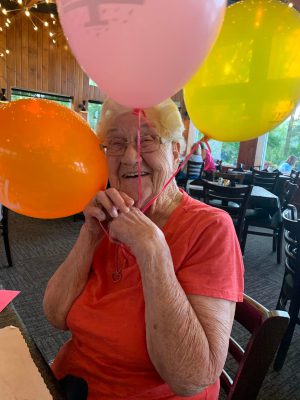 Krebs' granddaughter, Tiffany Bando, learned about this bucket list item and immediately went to work fulfilling the dream.
Margaret (Walter) Krebs was born August 26, 1922. She grew up in Loyal, WI, alongside 6 sisters and 2 brothers.
Click HERE to SUBSCRIBE to FREE local news at
Bando said, 'She married my grandfather, Norbert, in 1949. They met at his cousin's wedding.  Back then people were invited to weddings, and they "worked" at the weddings, so she was a server.
When Norbert and Margaret got married they moved to St. Lawrence and lived on a farm."
The Krebs' farmed from 1949-1988 when they sold the farm. They had three children, Herbie, Thomas and Patrice Krebs.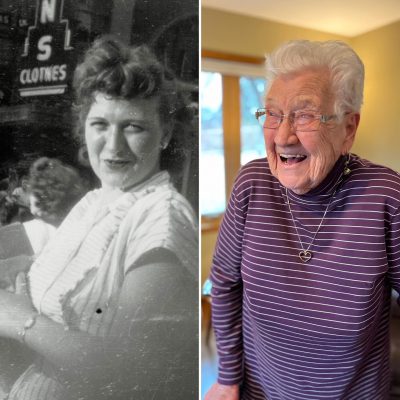 "My grandmother never got the chance to go to high school," said Bando, "She went to school for six years and then two years at a Catholic school and she graduated. There were no buses to take her to school so her parents couldn't drive her. She became a mother's helper.
Back then, after women had babies, they needed help as the new Moms had to stay in bed for nine days.  So Margaret helped make meals and do other things for families."
Krebs worked at Milwaukee Globe Union and Badger Meter factories, a Hartford Canning company, and a hotel for a few months. She also worked in Jackson at the canning factory that made sauerkraut and was part of Libby's, and she still loves sauerkraut to this day.
Bando said, "She helped my grandfather run the farm after they got married.
She loves to crochet, and she loved traveling to Florida beaches with my grandpa in their RV."
"When I asked my grandmother if she had any regrets in her 100 years of life, she said had one, and that she was not able to work at a hardware store.  No rhyme or reason, just something she always wanted to do," said Bando.
"I reached out to Neu's Hardware Store in Menomonee Falls and they immediately agreed to let her come in Thursday, August 11, 2022, at 10 a.m. to work the cash register for a little bit and make her dream come true. Neu's even made her an apron with her name on it. We are keeping it a surprise."
Bando and two of Krebs' grandchildren will be flying to Wisconsin from Tennessee for the brief, yet memorable, event; another surprise for the unexpecting Krebs.
"She also had one goal for her birthday and that was to receive 100 birthday cards," said Bando.
For those who may like to drop a birthday card in the mail, Krebs' address is below:
Margaret Krebs
201 Auxillary Ct.
Apt. 302
West Bend, Wi 53095