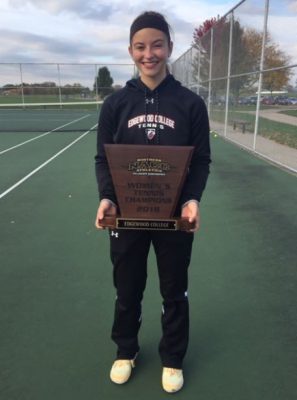 Oct. 15, 2018 – Slinger, WI – Abbie Groppe, a 2018 graduate of Hartford Union High School, is part of the Edgewood College Women's Tennis Team which won the conference championship over the weekend.

Click
HERE
for the box scores.
MADISON, Wis. – The Edgewood College Women's Tennis captured its first NACC Regular Season Championship since the 2014-15 season after a pair of league wins Saturday. The Eagles were dominant in taking down Concordia University Chicago and Dominican University, both by 9-0 scores. The wins helped Edgewood College finish the NACC Regular Season with a perfect 10-0 record.
HOW IT HAPPENED
– The Eagles started the day with a route of Concordia Chicago, winning easily by a 9-0 final. The No. 2 team of Marissa Wilson and Jaclyn Swift rolled to an 8-0 win while the No. 1 (Kai Heineman and Alicia Picard) and No. 3 (Abbie Groppe and Hayley Nau) each won by 8-1 scores.
– In singles play Edgewood College won all five of the matches it played by perfect 6-0, 6-0 scores. The final win at No. 6 singles was via default as the Cougars only had five players play in singles competition. The Eagles lineup from No. 1 through 5 was: Alyssa Carew, Heineman, Wilson, Haley Brooks, and Lydia Dean.
– The win over the Cougars gave Edgewood College a share of the NACC Title and another 9-0 win over Dominican helped the Eagles secure the title outright. Once again, Edgewood was dominant in doubles play, winning both matches by 8-0 scores. The third doubles match was won by default.
– Sydney Verbauwhede and Alyssa Carew posted an 8-0 win at No. 1 doubles and the duo of Brooks and Nau also cruised to an 8-0 win.
– The Eagles only played five singles matches again and won all five with relative ease, the sixth win coming by default. Wilson posted a 6-1, 6-0 win at No. 1 singles and Brooks swept a 6-0, 6-0 decision at No. 2 singles. Dean, Groppe, Nau rounded out the lineup with the trio dropping a total of two games. Groppe won 6-0, 6-0 in her No. 4 singles match.
BEYOND THE BOX SCORE
– The NACC Regular Season Championship is the sixth outright title for the Eagles and eighth overall, both league highs. Edgewood has won outright championships in the fall of 2008, 2009, 2012, 2013, 2014, and now 2018. They also won shares in 2010 and 2011.