2018 sturgeon spearing season on the Upriver Lakes is over | By Ryan Koenigs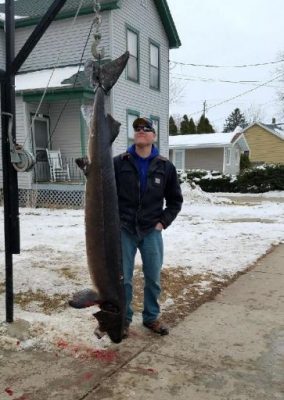 Feb. 13, 2018 – Fond du Lac, Co, WI – The big question coming in today was how long the spear fishery on the Upriver Lakes would last.
We were only two adult females away from the 90-percent trigger and 11 adult females from the 100-percent season closure.
Well it literally came down to the wire.
At 1:50 p.m. we were still sitting on 10 adult females, but the 11th adult female was registered at Critter's at 1:55 p.m. resulting in a complete season closure.
So the 2018 sturgeon spearing season on the Upriver Lakes is now over.
There were 32 fish harvested from the Upriver Lakes on Tuesday, which brings the season total to 297 sturgeon.  This is very similar to last season's harvest of 295 fish.
I plan to draft an Upriver Lakes summary report but as a sneak preview I put together the following table comparing the season length and harvest of the 2018 season to other spearing season's since the lottery fishery was implemented in 2007: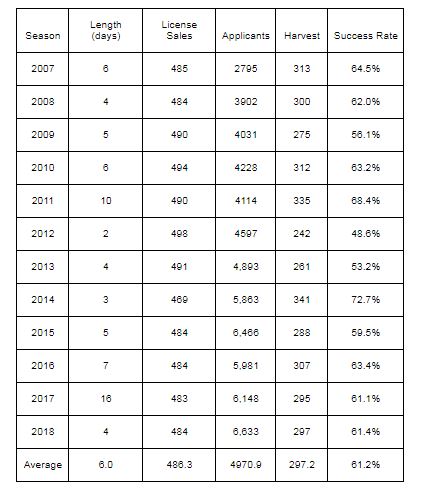 Today there were 42 fish registered at stations around Lake Winnebago bringing the season total to 229 sturgeon.  Payne's Point registered the most fish (10) followed by Wendt's (9), Calumet Harbor (7), Jerry's (6), Stockbridge (4), Waverly (4), and Quinney (4).
Four more fish 100 pounds or larger were registered Tuesday, including Kyle Jenkins 143.7 pound, 84.5" female that was registered at Jerry's Bar in Oshkosh.
Kyle's fish is not only the largest fish in today's harvest, but also is the longest fish that I have confirmed record of being harvested.  Fish records typically go from weight, and the current state record lake sturgeon was harvested during the 2010 spearing season.
That fish weighed close to 70 pounds more (212.2 pounds) than the fish Kyle speared today, but was actually 0.3" shorter (84.2").
Fish condition (plumpness) can be extremely variable from one fish to another, but can also be highly variable from year to year.
Strong hatches of gizzard shad and abundant red worm populations between 2009-2012 provided great foraging conditions for lake sturgeon and fish weights increased greatly during that time.
 I plan to draft a report later in the season to describe these trends in more detail, so stay tuned.
Congratulations to everyone that has harvested a fish thus far this season and good luck to everyone still in search of a fish!