Fond du Lac, WI – This is the first kick off of Fond du Lac Dances for the season hosted by the Knights of Columbus, 795 Fond du Lac Avenue on Sunday, February 9, 2020 from 1 p.m. – 5 p.m. with food and beverages available and handicap accessible.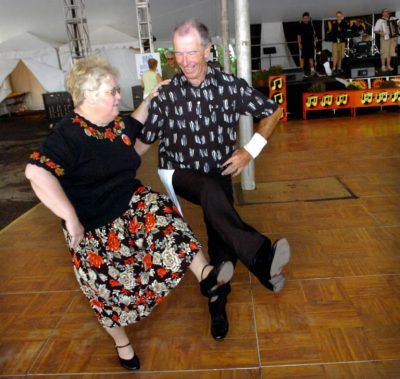 A beautiful decorated ballroom that host many weddings and other special occasions for  your enjoyment its becoming another great destination for the young and old alike throughout the Midwest.
It's a great place to socialize for a great enjoyable Sunday afternoon.  You don't have to come to dance you can play cards or just come and show support to the organizations to make their projects possible and successful.  Music is a great connection to get to know and socialize with the people that enjoy the dances.  People love to be talked to about other dances and events of different areas to know what is offered for them to enjoy.
The Knights of Columbus is another great non-profit organization that makes great contributions to various organizations making life more enjoyable. For example they donate to The ARC and other organizations to support the many projects are supported by these dances to make everything possible.
This is the band people cannot wait to see who just celebrated 105 years together on October 8, 2017 of Gary and Willard Brueggen at the Amerahn Ballroom, Kewaskum.  It also marked 35 years in the music business for son, Gary, also known as "Concertina Kid" and his father, Willard has 70 years of playing tuba.
The Gary Brueggen and The Ridgeland Dutchmen from Cashton, WI who has been playing since the age of 9.  April of 1982 which started by his grandfather, Herman Brueggen passed away in 1971, hence beginning the start of the name "The Ridgeland Dutchmen," which consisted of his dad, Willard and Uncles Harry and Phillip and family friends.
His cousin Brian played from 1982-1985. In the 1990's consisted of Gary, sister, Judy on drums and vocals, dad, Willard on tuba, Uncle Harry on guitar and vocals. Also, at this time Harry and Marie's three daughters, Donna, Carol and Cathy came along and were part of the Polka Mass Trio.  They did Polka Masses all over the U.S. including a number of performances in Mesa, AZ.
The Ridgeland Dutchmen Band name include the father-son duo of Willard and Gary Brueggen.  Gary and his Dad, Willard who was 89 this past June 28, 2019 and has been playing since he was 18; what a record who plays Tuba and still going strong as a retired farmer who grew up with the music and finds it very enjoyable of meeting new and old friends keeps him young.
Since 1982 they have been sharing the stage and have been on numerous recordings together . The current band consists of Gary on concertina, button accordion, and vocals, Willard Brueggen on tuba for keyboard players they have pending on their work schedules is her vocals, piano rhythm and saxophone playing, is none other than Laurie Solberg, of the Wayne Solberg, of the Wayne Solberg Family Band.
She's a great addition to the band as well a terrific asset.  Due to her work schedule, she cannot make all the gigs, now since married to Doug "Gus" Krueger from Bangor, WI now resides in Milwaukee, WI.
The other great talented keyboard player is the granddaughter of Syl Liebel is Lisa Meyers, of Coon Valley, WI who has a beautiful voice and is a great compliment to the band.
If they cannot make the schedule, Gary found Nancy Buckentine who is Earl Schmidt's daughter from Cologne, MN who can play piano and sing as well; along with the his wife Brianne now on the piano and along their 9-year-old son, Mason who is a drummer along with Jeff Langen of Polka, MN.
The other part-time members include Denny Anderson, Craig Ebel, Mike McIntyre, Brian Barnetzke, Gary Hendrickson and Tanya Tauges.  But Chris Langen is the newest member of the Band, and has worked part- time with the band over the past 6+ years.  Chris is mainly playing piano, banjo and guitar, but but is also an accomplished Tuba Player along with Bass Guitar.  Chris and his Wife, Tifany live in LaCrescent, MN.  Occasionally, when it works out, their daughter, Matelynn, 6, will be able to make the trip and join the band on stage to sing a number of songs.
Other members, include Gary's Father-in law and Brianne's Dad Brian Hafeman on bass guitar, Laurie Krueger on piano, horns and vocals, and number of other people that the Band can count on  to keep the Ridgeland Dutchmen sound.  They just recently made a new CD made with the Family including Maverick being 2 years old singing
"Snuggle with Me Polka" written by Gary and Bre on the CD called "Smiles are Made out of Sunshine.
Gary is very happy he can count on great players to help him out when the regular players are unable to play, due to various work schedules and commitments can make playing jobs difficult but nevertheless it still sounds the same.  Now there are more surprises when it is possible with him and his wife, Brianne's having  three children. Mason, 9, plays drums and sings with the Band who is not afraid of being on stage and either is his daughter, Matelynn who will be 6 years old in March, also sings in the band when time permits.
They have a 2-year-old son, Maverick who already has the music in them and especially when his daddy, brother and sister play and sing to him that will be another upcoming musician as well.  They do a great job that is beyond their ages so the music is in them by being supported by their parents to keep the music in the family.
Donna Gudex Kamrath would like to see more of that especially in the schools that have band and music students come to the dances to see how the music will play a part of a lifetime of enjoyment.
The band is truly grateful to its fans for the love and support through the years and has been there through all of the changes. In November of 1998, the band was blessed by being named co-winners of the Horizon Award from the Wisconsin Polka Hall of Fame. More recently, in 2003, they were named Band of the Year. It was a great surprise to get these awards, it is cherished by all of the members of Gary's Ridgeland Dutchmen Band. The band has many great recordings out with the latest recording "25 Years of Miles, Smiles and Memories" has won "Album of the Year" Award thru the Wisconsin Polka web site.
Another news item Gary was inducted into the World Concertina Congress Hall of Fame in October, 2008.  Now just recently received the honors of being inducted and received the International Polka Association Award of the which is very rewarding for his talent and is well known throughout the country.
You will be glad to see this band in person, he is extremely entertaining for all ages.  The band plays at many festivals, picnics, anniversaries and more.  He made the Eden Firemen's Picnic for the first time last year and the people were extremely impressed with the sound of the Band made a great day for everyone to enjoy of all ages.
It's not only the bands that make the crowd, it's also the TV Show POLKA!POLKA!POLKA! that airs on Sunday mornings at 11 a.m. on Channel 14. The show has taped Mayville dances in the past and replay them many times.  But being at the dances is better than what you see on TV, meeting and watching creating friendships is what it is all about.  The POLKA!POLKA!POLKA! has taped at Mayville, Marghaels and at Knights of Columbus Halls to bring joy to the people are unable to attend the Dances and the ones that do to recall the memories of the Dances.
Everyone enjoys watching the shows and are looking forward to the season for Fond du Lac. The scheduled dances for Fond du Lac are February 23 – Del RAYS 50-60's Music at Marghaels Dance Hall; March 8 – Ryan Kautzer Band at Knights of Columbus Hall; March 22- Eddie Larson at Marghaels Dance Hall; March 29 – Don Peachey Band; April 19 – Second Edition and April 26 Musical Brass at Marghaels Dance Hall.  Please note there are 2 different locations and are handicap accessible and food and beverages are available.  Please support the Sponsors and Supporters in making these Dances possible to maintain their projects from these Dances including the Saturday Mayville Dances as well.  If you should have any questions, please do not hesitate to contact Donna Gudex-Kamrath at 920-960-5318.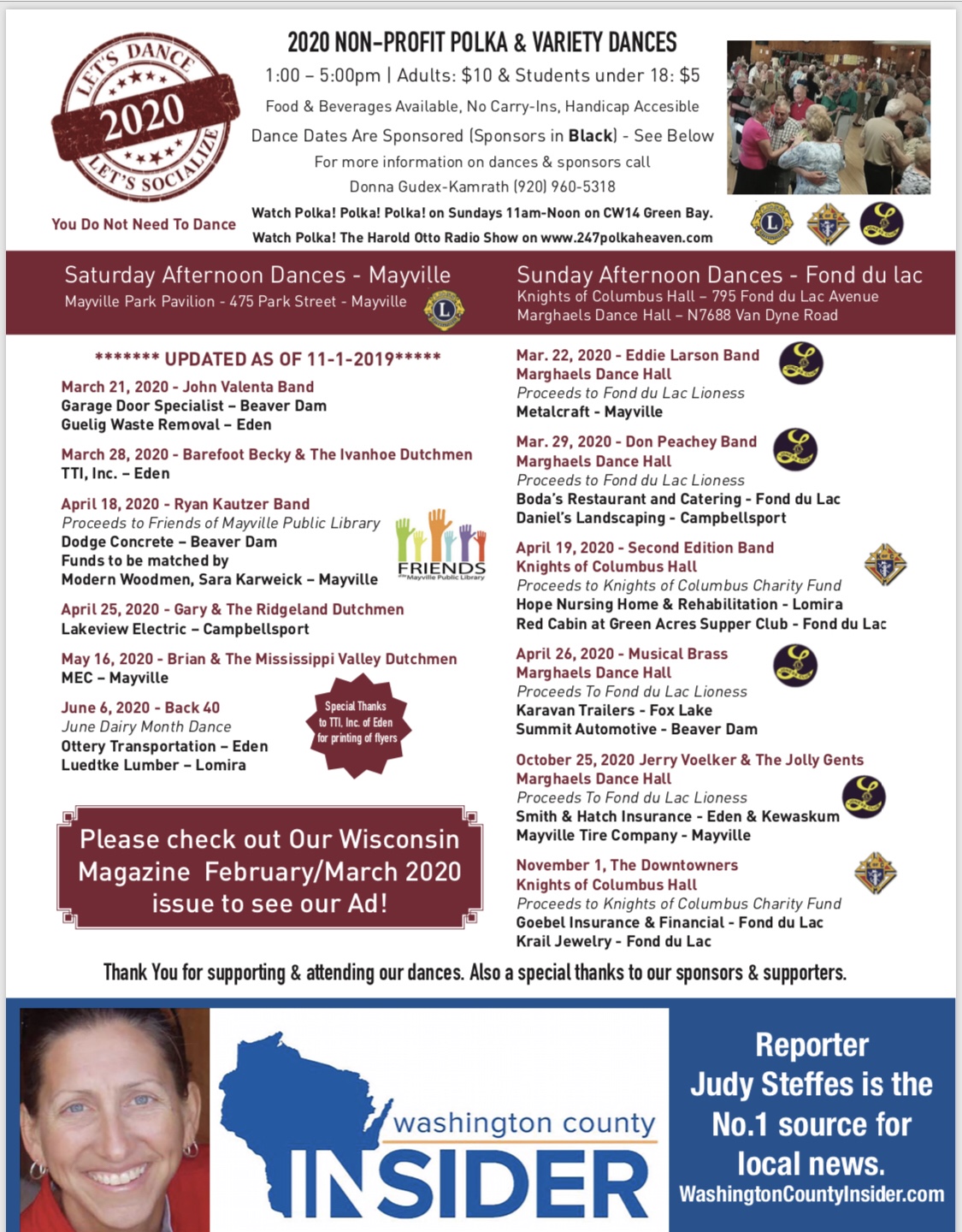 Photo courtesy tellwut.com