November 5, 2019 – Washington Co., WI – There will be 21 veterans from Washington County on the Nov. 9 Stars & Stripes Honor Flight to Washington D.C.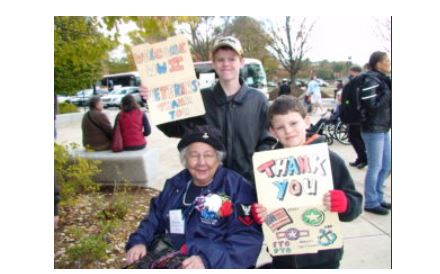 Veterans include: Vietnam Army Ralph Charette of Germantown, four veterans from Hartford including Vietnam Air Force Jeffrey Lauenstein, Korea Army Edgar Loomis, Vietnam Air Force Jeffery Hoppens, and Vietnam Army Jerrold Green.
Two veterans from Kewaskum including Vietnam Army Ronald Amerling Kewaskum and Vietnam Air Force James Dorn.
Vietnam Army William Schneider Richfield
Vietnam Army Donald Thies Slinger
A dozen veterans from West Bend including Vietnam Marines Arthur Schroeder, Korea Army Charles Strohbach, Vietnam Army John Butschlick, Vietnam Navy Wilbur Zilinsky, Vietnam Marines Richard Thompson, Vietnam Army James Fellenz, Vietnam Navy David Wietor, Vietnam Army Richard Haas, Vietnam Army Dennis Rondorf, Vietnam Marines Dennis Woods, Vietnam Navy Jerry Prochnow and Vietnam Army William Thompson
Stars and Stripes Honor Flight (SSHF) will fly the fourth of four fall Honor Flights on Saturday, Nov. 9. The flight will be the 56th Stars and Stripes Honor Flight since 2008.
Two chartered Allegiant Airlines A320 aircraft will transport 174 veterans to Washington, D.C. via Baltimore Washington Airport, departing Milwaukee at approximately 7 a.m. on flight day. Sargento Foods, Inc. is the proud sponsor of the "Bravo" plane, while local TV station WISN 12 is sponsoring the "Alpha" plane.  On that day, Stars and Stripes Honor Flight will welcome 3 WWII veterans, 15 Korean War veterans, and 156 veterans of the Vietnam War.
Veterans who will be taking their Honor Flight on November 3 include three married veteran couples, a 97-year-old WWII Army corporal, and a large number of Vietnam War combat veterans.
After the planes land in Baltimore on flight day, the veterans will board coach buses to tour Washington's WWII Memorial, Korean War Memorial, Air Force Memorial, Vietnam Veterans' Memorial Wall, and more. The day will also include viewing the Changing of the Guard at the Tomb of the Unknown Soldier at Arlington National Cemetery. A D.C. Park Police escort will ensure that the veterans do not spend time stuck in traffic.
"It has been our absolute honor to have served more than seven thousand local heroes in the last 11 years," Nelson said. "These veterans have been thanked, supported, hugged, cheered and welcomed home by a community that inspires us."
Prior to the Nov. 9 flight, Stars and Stripes Honor Flight has flown 7,430  local veterans on these trips to Washington, DC since the inaugural flight in 2008. As an all-volunteer organization with no paid staff and no offices, the organization is proud to share that $.97 of every donated dollar goes directly to flying and honoring veterans. 
Honor Flight is a national program with more than 130 hubs from coast to coast. The WWII Memorial did not open until 2004 and many veterans are unable to visit Washington, D.C., without assistance. Nationally, hubs in the Honor Flight network have taken well over 225,000 veterans to see their memorials.
Timeline of activities for the Saturday, Nov. 9 Stars and Stripes Honor Flight:
4:30 a.m.
– Veterans and their guardians begin check in at Mitchell International Airport's main concourse
5:45 a.m. – National Anthem and boarding entertainment by local vocal group Vintage Mix Quartet
7:00 a.m. – Flights depart for Baltimore/Washington International Airport, water cannon salute on runway
9:30 a.m. (ET) – Flights arrive at Baltimore/ Washington International Airport, load buses for D.C. tour
6:30 p.m. (ET) – Return to Baltimore Washington International Airport, load plane for departure back to MKE
8:30 pm (CT, approximate) Return flights land at Mitchell Airport, veterans deplane for parade through the airport's main concourse. The Greendale High School Band and Brookfield East High School Spartanettes dance team will provide spirit for the Homecoming parade.