92-year-old WW II veteran from Germantown on Sept. 28 Honor Flight
September 28, 2019 – Germantown, WI – World War II veteran Richard Mihalek, 92, of Germantown is one of 17 veterans from Washington County on the September 28 Honor Flight to Washington D.C.
Mihalek was 17 years old and living in Chicago when he enlisted in the U.S. Navy. "I started active duty Feb. 5, 1945," he said. "I had just graduated high school that January and I knew the draft was imminent. I got into an electronics program where they sent me to school for 11 months. I went into the Navy to fix any electronic equipment aboard ship."
Mihalek went to Naval Station Great Lakes for basic training particularly because he had a desire to get into electronics. "There was three stages for the schooling; one month in the Chicago area where they took over one of the junior high schools, three months back at Great Lakes followed by seven months in Washington D.C.," he said.
The schooling took up a year of Mihalek's time; he was in active training for 18 months and got out of the service in August 1946. Much of the time he was stationed aboard the destroyer, Wallace L. Lind.
"I was 18 years old and at that time it was a big adventure," Mihalek said.
After the Navy, Mihalek joined the Navy Reserves. "I was recalled for active duty in 1951 and was aboard ship, the U.S.S. Cambria, all that time," he said.
Upon returning home, Mihalek went to college and earned a four-year degree, got married, was in graduate school and went back on active duty. "I completed four months with the Navy Reserves and then came home and picked up two more degrees to earn a PhD in Mathematics from the Illinois Institute of Technology in Chicago," he said.
For the next 32 years Mihalek taught as a professor at UW-Milwaukee.
Following retirement Mihalek and his wife explored the country in an RV. "At that time I was 71 when we sold our house in Whitefish Bay," said Mihalek. "My wife and I were both avid cyclists and we moved to Germantown to get away from the hubbub of the city."
An avid athlete Mihalek has six Ironman competitions in Hawaii under his belt. Questioned how his knees were, Mihalek pulls up on the hem of his shorts, looks down and says, "Replaced!"
Mihalek's will be traveling with his son Mark as his guardian on today's Honor Flight.
There are 17 veterans from Washington County participating in the 54th Stars and Stripes Honor Flight's (SSHF) that will take off today from Milwaukee Mitchell International Airport.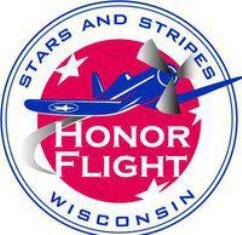 Other local veterans on the flight include:
Vietnam Army Kenneth Zimmerman Hartford
Vietnam Marines Thomas Kilcourse Hartford
Vietnam Army Dennis Marthaler Hartford
Vietnam Air Force Daniel Maciejewski Hubertus
Korea Army Clifford Conaway Jackson
Vietnam Army Harry Krueger Kewaskum
Vietnam Marines William Richter Slinger
Vietnam Navy Ronald Buechler West Bend
Vietnam Navy Leonard McGinnis Jr. West Bend
Vietnam Army Paul Fellenz West Bend
Vietnam Army Ronald Hausner West Bend
Vietnam Army James Wollner West Bend
Vietnam Army Roger Kaschner West Bend
Vietnam Navy Bruce Post West Bend
Vietnam Army Michael Reseburg West Bend
Vietnam Army Adrian Krueger West Bend
Two Allegiant Airlines A320 aircraft will leave Milwaukee's Mitchell Airport at approximately 7:00 a.m. on flight day, bound for Baltimore Washington International Airport with 171 local veterans (and their guardians) ready to experience a full day of honor and thanks.
On that day, Stars and Stripes Honor Flight will welcome 9 WWII veterans, 13 Korean War veterans, and 149 veterans of the Vietnam War.
Southeastern Wisconsin veterans who will be taking their Honor Flight on September 28 have a wide variety of service histories, including service as Vietnam War paratroopers, helicopter pilots, reconnaissance Marines, tank gunners and artillery soldiers.
After the planes land in Baltimore on flight day, the veterans will board coach buses to tour Washington DC's WWII Memorial, the Korean War Memorial, the Air Force Memorial, the Vietnam Veterans Memorial Wall, and more. The day will also include viewing the Changing of the Guard at the Tomb of the Unknown Soldier at Arlington National Cemetery.  A DC Park Police escort will ensure that the veterans do not spend time stuck in traffic.
Be sure to come to SHRED Day at Horicon Bank in West Bend on Saturday, Sept. 14 for 'After the Honor Flight' and meet local veterans who have been on the flight and those prepping to take part on September 28. The free event runs 10 a.m. – 12 noon.
"We are so honored to welcome another 171 local heroes to their Stars and Stripes Honor Flight," said Paula Nelson, president of Stars and Stripes Honor Flight. "Our veterans will join us from all over southeastern Wisconsin for this trip of a lifetime. So many of our oldest veterans came home many years ago without a true homecoming. We look forward to welcoming them home the way they should have been welcomed home decades ago. We are so grateful to our volunteers and our community for their support of our veterans and our mission."
Prior to the September 28 flight, Stars and Stripes Honor Flight has flown 7,018 local veterans on these trips to Washington, DC since 2008, and has honored more than 50 veterans locally who were not able to fly.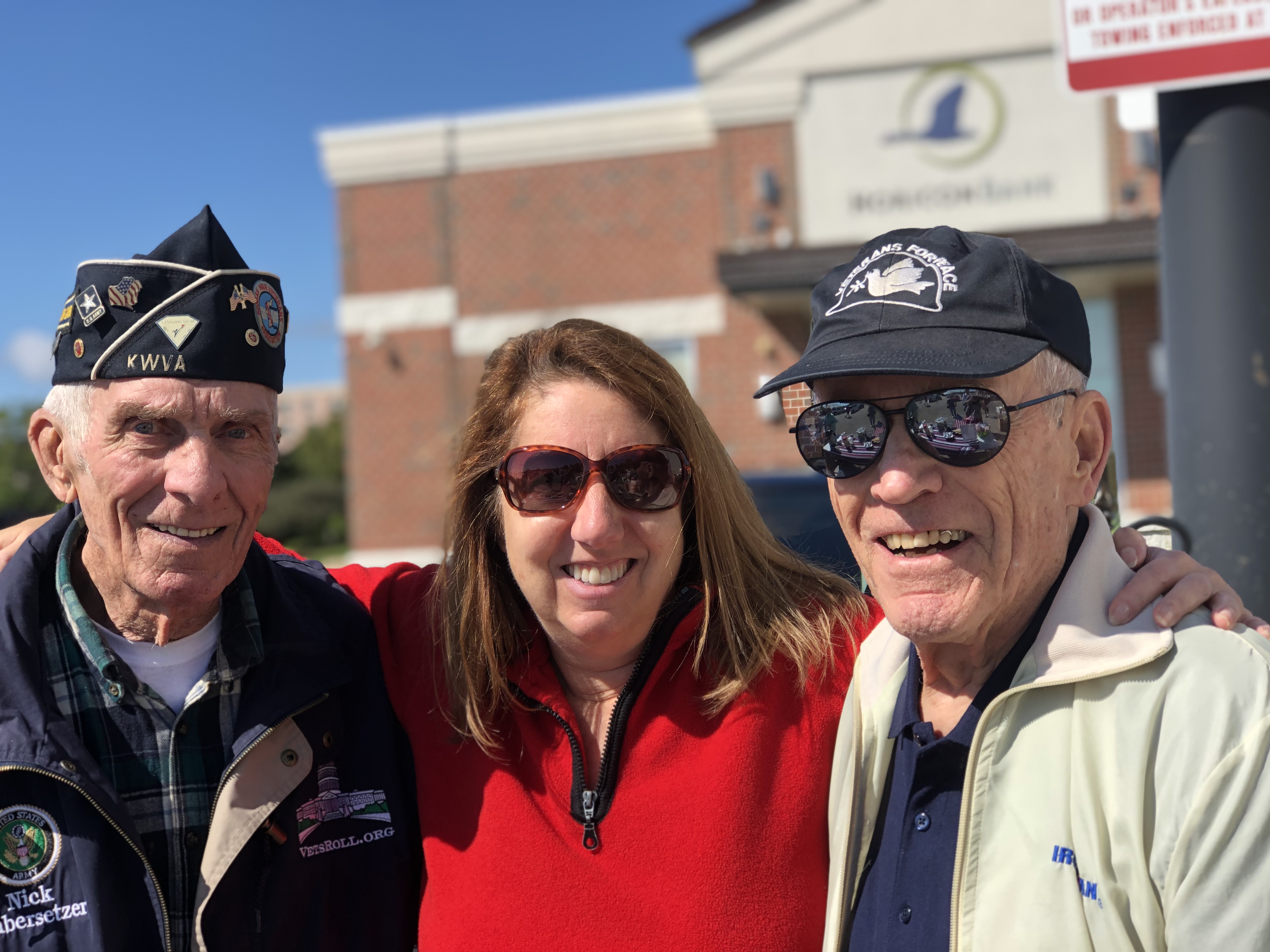 Korean War veteran Nick Habersetzer and WWII veteran Richard Mihalek
As an all-volunteer organization with no paid staff and no offices, the organization is proud to share that $.97 of every donated dollar goes directly to flying and honoring veterans. 
Honor Flight
is a national program with more than 130 hubs from coast to coast. The WWII Memorial did not open until 2004 and many veterans are unable to visit Washington DC without assistance. Nationally, hubs in the Honor Flight network have taken well over 223,000 veterans to see their memorials.  
Timeline of activities for the Saturday, September 28 Stars and Stripes Honor Flight: 
4:30 am
–Veterans and their guardians begin check in at Mitchell Airport's main concourse 
5:45 am
– National Anthem and boarding entertainment by vocalists "Bounding Main"
6:30 am
– Flights depart for BWI Airport, water cannon salute on runway
9:30 am (ET)
– Flights arrive at BWI Airport, load buses for DC tour
6:30 pm (ET)
-Return to BWI Airport, load planes for departure back to MKE 
8:30 pm (CT, approximate)
Return flights land at Mitchell Airport, veterans deplane for parade through the airport's main concourse. The 484th Army Band and the Brookfield Central Lancerettes dance team will provide spirit for the Homecoming parade.