Boltonville, WI – The Washington County Fair is about two months away and local 4-H and FFA kids are working on their projects.  Ella Walecki is a 15-year-old sophomore at Random Lake High School. This will be her first year showing dairy steers at the Washington County Fair. It is also her first year in Washington County 4-H.
Walecki has been contributing regular articles as a member of the Boltonville Firecrackers 4-H Club.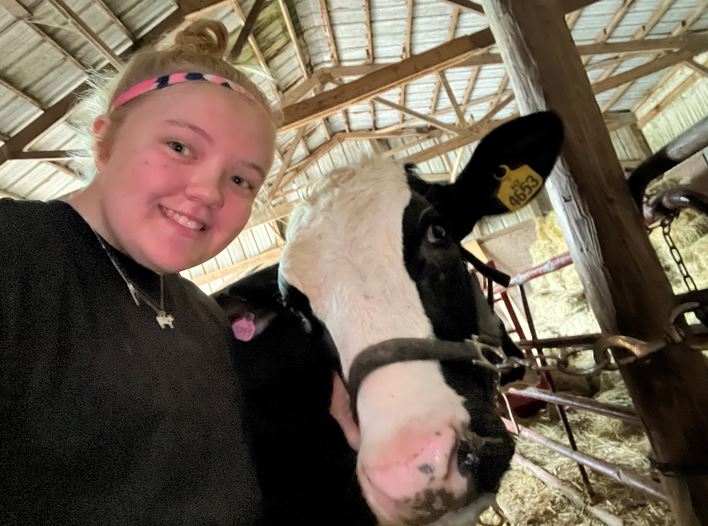 It's a summer of weight gain here in Boltonville as my steer Bo clomps through the barn to stand on a large flat scale so I can measure his progress. We put him in the headlock/chute and watch the numbers climb.
When I got Bo in December, he was a mere 715 pounds. Lately he's north of 1,330 pounds, averaging 3.8 pounds of weight gain per day.
The average consumer may just think a steer eats just a little bit of corn, chews on some grass, eats some dandelions and chows down some hay, but it is a little more complicated than that to raise a show animal.
Nutrition is a very important factor in raising cattle. I am lucky enough to have a Feed Sales Consultant in my corner. Sarah Schalk from Adell Co-op has helped me with a rundown of my steers ration and percentages.
When talking with Sarah, she helped break it down what is exactly being fed to my steers in their finisher diet.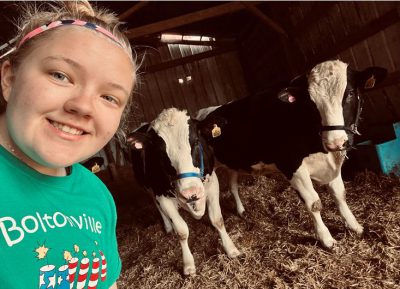 Finishing ration consists of 71% cracked corn, 26.5% dry distillers, and 2.5% beef balancer. The steers are on a free choice diet with alfalfa provided to keep their digestive system moving along.
When raising dairy steers, we go from a grower ration to a finishing ration. The sub-750-pound ration consists of more protein to provide the nutrients needed for younger cattle.
Around 750 pounds the steers get moved to a finisher mix that is higher in energy (higher fat) but not as much protein.
There is a balance needed between fat and muscle, when looking at how to track Bo for weight gain to be ready for this year's Washington County Fair. The market dictates what weight a market animal should be; a desirable weight for a finished Holstein steer should be around 1,200 pounds but not to exceed 1,600 pounds.
Click HERE to SUBSCRIBE to FREE local news at
Does anyone want to take a wild guess how much water my steer can drink per day? On a hot summer day, my steer will consume up to 30 gallons of water per day. Just like me and you on a hot summer day, water tends to go down pretty easy if you're outside in the heat. On those cooler winter and fall days my steer will consume roughly half that amount of water.
I like to provide my steer with lots of exercise. I believe it is beneficial for my steer to keep him moving, keep him loose and flexible. For example, I walk Bo in the pen daily to help keep him exercised and active to be ready for the fair.
Like any diet, Bo cheats. Normally I just give him some fruit; nothing too fancy for my big boy.
Click HERE to read about Boltonville Firecracker 4-Her Edison Jaycox and his sheep project for the 2022 Washington County Fair
SUBMIT YOUR 4-H PROJECT STORY: If you are a member of 4-H or FFA in Washington County please submit your summer project story as we work our way to the 2022 Washington County Fair.  Send stories to [email protected]