A love story in Barton: A revelation during Easter supper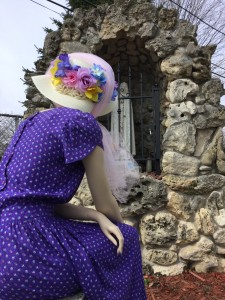 Essie and grandma walked up the path to grandpa's grave at St. Mary's Cemetery.
Mass just let out and the pair were making their traditional Easter Sunday visit to the cemetery. Essie knew well enough  to let grandma have her space as she tended the plot. Grandpa died 15 years ago Easter Sunday.
Grandma mumbled to herself as she placed red tulips on the headstone. She cleared away a cluster of damp wayward leaves and worked to reset the metal stake that paid tribute to his service in WWII.
Grandma gave grandpa "what for" and brought him up to speed, in her out-loud voice, on the latest goings on in Barton including the new tenant, Kettle Moraine Counseling on River Road, the gone-off-the-road accident with his granddaughter and "that boy" and some usual scuttlebutt from Sandy's Barton Cafe.
Essie wandered through the cemetery and sat reflecting, in front of the grotto put in place last year by the Geib family.
She sighed a heavy sigh, another year had passed in Barton. Essie fixed a stare at Mary, statuesque behind the black iron gate. She breathed in the cool morning spring-time air.
"I'm fine. I'm fine," said grandma as Essie walked her to the front door of the duplex on Roosevelt. Grandma was feisty and always trying to prove her independence. "Don't forget the grocery list," she said as she walked up the wood steps to the front door.
It was getting late. Mass let out over two hours ago and Hank would be arriving for Easter supper soon.
Essie quick stepped down the sidewalk to pick up some last minute fixins.  This was going to be the first meeting between Hank and grandma and Essie was a bit on edge.
She had seen Hank in church during Easter Mass at St. Mary's. He walked past them during communion as Essie and her grandma held their usual spot in the front row. Hank gave Essie a coy wink. She bowed her eyes and fought back a grin.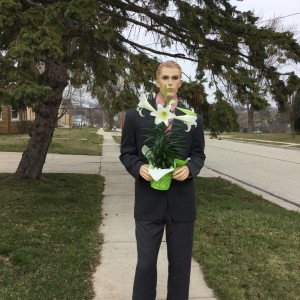 The pair met up on the sidewalk in front of grandma's duplex around 3 p.m.  Hank dressed for dinner and apparently to impress grandma. He wore a suit with a pink button-up shirt and toted a 2-foot tall white Easter lily.
"Talk about perfect timing," said Hank as he offered Essie his arm and another hand to carry the brown paper sack of groceries from Otten's.  "Been shopping," he said.
"Just some last-minute items," according to Essie.
The screen door slammed behind them as they climbed the steps. Ham was on the menu for Easter supper along with homemade scalloped potatoes and grandma's special orange jello.
Opening the door into the apartment Essie knew something was out of place right away. The cozy space felt empty.  "Grandma…." she yelled with a bit of hope and hesitation.
The kitchen was empty.  The table bare. "Grandma….."  Essie pushed open the door to the bedrooms and the bath.
Hank stood in the entry and slowly closed the door clutching the Easter lily.
Just then, there was some resistance and the door hit Hank in the backside. "Grandma," said Essie.
Hank moved to the side to let her in. "What's…. where were you," said Essie noticing her grandmother's muddy white shoes.
Grandma was down to business and home-again habits, removing her coat, hanging it on the metal hook, and walking with purpose to the kitchen. "I was at the cemetery visiting grandpa," she said as she sidled up to the industrial white porcelain sink to wash her hands.
Essie was confused. "Grandma…. " she stammered. "We visited grandpa this morn….. did you go back…. we're hosting supper…. this is my friend Hank."
Grandma turned and with soapy hands reached out to embrace Hank. She met him at his waist. "So this is my granddaughter's suitor," she said. "My you're a big young man, I wish I had known we were going to have company."
Grandma shuffled around the kitchen and Essie offered Hank a chair and an apology. "I'm sorry….. she's becoming more and more forgetful. It doesn't look like we'll be eating any time soon ….," said Essie her voice trailing.
"Don't worry about it," said Hank. "I'm exactly where…."
"Did you wash your hands yet Frank… you can make yourself useful," said grandma.
Essie piped up. "It's Hank grandma. His name is Hank," she said.
"Well tell your man friend to put another leaf in the table while I get supper goin'," said grandma. She spoke with a German accent that was a bit Dutchy at times.
"Essie, didn't you start the ham," she said.
Essie stood quickly, her black shoes clicked as she hit the linoleum kitchen floor. Within a minute she was back, handing Hank a sweaty long-neck bottle of Lithia. "Make yourself at home," said Essie.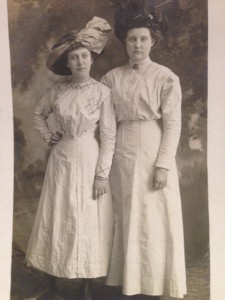 Hank walked around the small apartment looking at framed photos lined up in a parade on the table next to a rocking chair. A basket of yarn and knitting needles rested along side.
There was a small orange bowl made of carnival glass. It held a tuft of green Easter grass and some chocolate rabbits wrapped in tinfoil. Hank unwrapped one and popped it in his mouth; one bite and his gag reflex kicked in.
"Oh my gosh," he said, spitting the chocolate glob into his handkerchief.  "Marshmallow," he said wiping his tongue.
If it was one thing Hank couldn't stomach it was marshmallow.
The apartment began to warm up, filled with the sounds and smells from the kitchen as dishes clanked and pots boiled. "Mind setting the table for me Frank," asked grandma as she pushed a set of plates into his hands.
"It's Hank grandma…. his name is Hank," said Essie as she stooped to pull the ham out of the oven.
Hank dutifully set the table, gently placing the plates on the white tablecloth. He found glasses, silverware, and napkins to finish off his assignment. It was tight quarters between the kitchen and the table and Hank tried to stay out of the way of the ladies as he failed to fall into the rhythm of the room and found himself doing more of a dodge than a dance.
You could see steam slowly rising off the dishes as the three gathered at the table to eat. "Can your man friend say grace," asked grandma.
Hank bowed his head, "ABCDEFG thank you God for feeding me," he said.
Essie gave Hank a quick kick under the table.
"Now young man," said grandma. "Can you give a proper thanks to the Lord for this gift on Easter Sunday."
Hank put his smirk in his pocket, joined hands with the ladies at the table and thanked God for the blessed day,  good health and he gave praise to grandma for inviting him into her home.
"Give me your plate young man," said grandma. She dished up some meat, potatoes and vegetables – the kind with cream of mushroom soup and burnt toast scrapings on top. She passed it back to Hank and he traded the plate with Essie.
"Oh son, would you be so kind as to get the jello dish in the ice box," said grandma.
Hank was more than happy to help. He pulled open the silver handle on the ice box and slid the chilled tray off the metal rack. He held the jiggly mold at arms length. "It's my mother's specialty," said grandma from the other room.
Hank eyed it warily. "Take some," encouraged grandma handing him a big serving spoon.
The orange jello was covered in marshmallows. Hank took a polite amount and passed the tray to Essie.
Conversation at the dinner table was interesting as grandma peppered Hank with questions about his job, the accident, whether his boss was ever going to let him drive again and if he would like a to-go plate for home.
Hank and grandma chatted like old hens. "The fellas at Vrana Frame & Body Shop are taking a look at the truck," he said. "A couple of the boys from Albiero Plumbing and Master Electric were on scene to help pull us out and they didn't think it looked too bad."
"Well my Essie didn't look too good when she got home, I'll tell you that," scolded grandma.
"Oh grandma… I'm fine," Essie cooed as she stood to clear the table putting a consoling hand on grandma's shoulder.
Grandma shooed the pair out of the kitchen as she took ownership of the dishes.
"Better get out of her way," warned Essie. "You can set the plates, eat off the plates, even lick 'um if you heart desires but grandma don't trust anyone but herself to clean 'um."
Hank thanked grandma for the wonderful supper and he and Essie walked down the stairs to take a moment. They sat on the front porch and watched traffic roll by. Around the corner they could hear music from Joker's 5 Bar & Grill.
"I feel like a shot and a beer," said Essie holding her head in her hands.
"Your grandma seemed fine," observed Hank. "Supper was great. She made good conversation."
Essie slowly shared a couple other concerning incidents she had been keeping to herself. Grandma would forget to return things to the library on time, she would repeat herself, they had to go to C&C Business Management twice this year because grandma misplaced a shoe box full of receipts.
"I don't know…. is it just old age or is there something more going on." Essie sounded like she was pleading for an answer she may not want to hear.
From the top of the stairs grandma yelled, "Essie… I got plenty of my mother's famous orange jello if your man friend wants a to-go plate."
Hank stood quickly. "I think he's fine grandma," Essie yelled back. "You don't want to plump him up too much – gotta keep him hungry and give him a reason to come back."
Hank figured he'd better get while the gettin' was good. He gave Essie a quick peck on the cheek and lept down the porch steps two at a time.  "Thanks for the wonderful night," he said to Essie.  "See ya at the store tomorrow."
Essie waived. "See ya Frank," she said. "See ya tomorrow."
Build. Boost & Buy in Barton  – – Shop these local businesses

          Wisconsin House Woodworks 
           Lake Lenwood Beach and Campground