A love story in Barton – Essie picks out her dress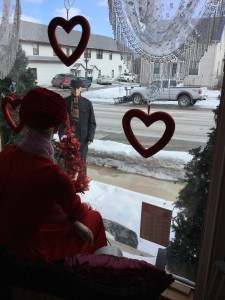 A love story in Barton – So the lovebirds, Hank and Essie, are getting all dolled up as they prep for their big date.
Essie has picked out a bright red dress. The brilliant color is a welcome change from the drab trends that were only available because of scarcity of dyes during WWII.
The slim-fitting dress compliments Essie's hourglass figure. Her Mary Jane shoes she borrowed make her look like the "cats meow."
Essie's boss at Over the Moon, has helped her accessorize with a chiffon Valentine scarf to wear around her neck; it could easily be untied and worn over her shoulders for the cool evening hours.
To top off her outfit, Essie will wear her mother's pearls.
Hank is lookin' to borrow his brother's grey suit. As an apprentice to the cabinetmaker – he has no need for highfalutin monkey suits.
During a 5-minute break from work, Hank scoots out the back door of the wood shop. He told his boss Jeff he was going for a grit.
Slowly he ambled round the corner of the brick building to see if he can catch a glimpse of Essie in the neighboring storefront window.
An old Chevrolet pickup rumbles up Barton Avenue. The driver lays on the horn. Hank pulls his hand out of his blue jean pocket and gives a good-natured wave.
He unwraps a hard stick of Pepsin gum and spies Essie in the window, tugs the brim of his hat and turns to head back to the wood shop.
Over the Moon owner Deb bustles past Essie with a pyramid of red-lace ribbons and gift boxes. She's humming a church hymn and breaks for only a moment to say, "That boy sure is sweet on you."
– – Build. Boost. Buy. In Barton – –
Tomorrow – Hank makes dinner reservations and thinks of ways to make the evening special.