April 24, 2017 – Barton, WI – Hank stopped by the Washington and Ozaukee County's Vietnam Veterans of America Chapter 448 to see if there was anything he could do to help them prepare for the
Loyalty Day Celebration
this Saturday, April 29 in West Bend.
"Coming to the parade to show your support would mean a lot," said veteran Richard Lindbeck.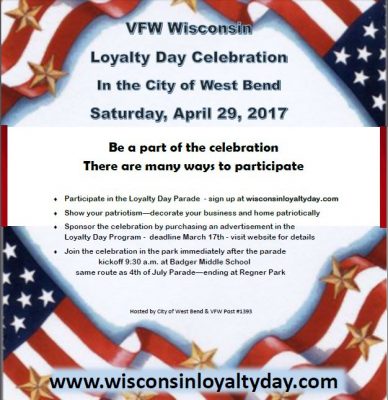 Hank assured them he would and he would bring Essie too.
The group invited Hank to stay and watch as the firing squad practiced their close-order drill.
Following the practice, Hank asked if he could have a group photo.  "Got freedom?  Thank a Vet!"
The Loyalty Day Celebration will begin with a parade on Saturday, April 29. The line up begins at 8:45 a.m. and will step off at 9:30 a.m. from Main and Oak.
The parade will head north through the downtown and wrap up at Regner Park. A ceremony will follow with a keynote speech by Gov. Scott Walker.
(Left to right above picture)
Richard Lindbeck, 
Joe Schneider, 
Ace Krueger, 
Jim Bokelman, 
Hank, 
Jim Hackbarth, 
"Curly" Hanrahan, 
Mike Gaglione