AC Photography opens in Barton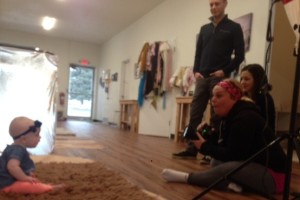 There's a new business on the block in Barton as AC Photography has opened in the former Wash-Line Laundromat, 1708 Barton Ave.
"I like the wide openness and the natural light," said owner Andrea Cluka. "There's a lot more space than what I had when I worked out of my home."
Neighbors who did their laundry in Barton will do a double take when they step through the doorway. Gone is the parade of washers, dryers and folding tables as Cluka has transformed the space into an open-concept studio.
Individual themed areas are laid out in sections including a bedroom setting, shaggy rug and wood floor. All have photo-friendly backdrops that can easily be switched up with the addition of a bright pillow, fun sash or comfortable blanket.
During a recent photo shoot Cluka was down on the floor, at eye level with her client. "Ah boogah boogah boogah," she said grabbing the little girl's toe and then snapping off a series of quick shots.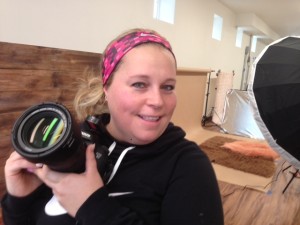 "I'm very personable," said Cluka. "I treat my clients like they're good friends. They're still my clients but I want them to know I respect them and they're more than just another person."
The former laundromat has been built special for Cluka. There are side closets for her props, clothing selections, toys and backdrops.
"I've invested a lot in the props," she said. "In the photography business we like to say we never have enough."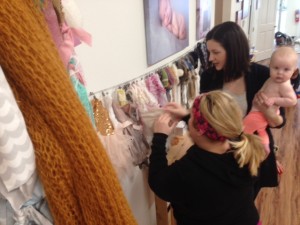 At 33 years old, Cluka has more than 10 years experience behind the camera. On her website, acphotollc.com she describes herself as "baby photographer extraordinaire."
"What I love is families that grow with me," she said. "I've had families where I do their engagement, their wedding, their maternity, their newborn, their second child and I love that people trust me with their children and still enjoy my style and most of all enjoy me."
Cluka is bubbly and has an easy laugh. She leads her client to a side wall and runs through a clothesline full of dresses for little girls. "This one is so sparkly and this is colorful and spring like," she said.
A mom of two boys, Cluka said she is "inspired" by children.
When Cluka isn't busy with her family or her photos she volunteers her time, taking pictures for families that have received difficult news about a birth.
"I'm a photographer for Now I Lay Me Down to Sleep," said Cluka. "It's an organization you have to be accepted to as photographers donate their time to parents who have lost a child in utero or at birth."
Born in Richfield and a graduate of Hartford High School, Cluka now makes her home in West Bend. She said the space in Barton was a natural fit.
"I liked Barton because I have a friend who opened her salon down the road," she said. "This is on the main drag. Maricio's is a great place and a lot of people know where that is; I live right down the road and it couldn't get any better."
AC photography is open by appointment only. Cluka can be reached at 262- 224-1982 or email at [email protected]