November 25, 2019 – Washington Co., WI – Within moments of Washington County Judge Andrew Gonring's announcement about his March 28, 2020 retirement, accolades started pouring in.
Many praised Gonring, 67, for his integrity and honesty; his quick wit and community service.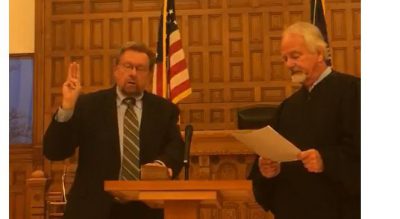 Former state Assembly Rep. and Washington County Board Supervisor Pat Strachota was one of the first to respond to Gonring's announcement.
"Judge Gonring has been an exemplary Judge in Washington County. From my days on the County Board as well as when I was in the Wisconsin State Legislature I used him to give me an honest assessment of the laws he was required to work under and how the law could be made better. Judge Gonring is a true public servant. His knowledge of the law, honesty, integrity and quick wit served the citizens of Washington County admirably. He will be missed."
Former Washington County Sheriff Dale Schmidt wrote:  "I appreciated the thoughtful and logical way Judge Gonring approached his role as the Chief Judge.  When it came to court security policy and the administrative processes for law enforcement he was careful not to disrupt things that were working just for the sake of change.  When new ideas or technologies came along, he had to see a need for the change and it had to improve things before he would pursue it.  This made him reliable and predictable which resulted in Judge Gonring and I having a good working relationship on those issues.  I wish him well in retirement."
Former West Bend Mayor Kraig Sadownikow wrote:  "Easily one of the greatest gentlemen and West Bend advocates I've had the pleasure to know."
State Supreme Court Justice Annette Ziegler worked alongside Judge Gonring for seven year on Washington County Circuit Court.  "Judge Gonring brought a great deal of experience to the bench from his many years in private practice and he earned a reputation for being a jurist of the utmost integrity," said Ziegler.  "His keen legal mind and dedication to public service will be missed."
Attorney Dan Patrykus wrote, "The upcoming retirement of Judge Andy Gonring in Washington County follows a storied career as a trial lawyer even before he took the bench. Among lawyers who frequently practice in other counties as well, Judge Gonring is considered to be among the best and the brightest of Wisconsin judges. On behalf my fellow Washington County lawyers, there is no doubt that he will truly be missed."
Local business owner Jeff Szukalski from Jeff's Spirits on Main in West Bend said, "He's done a great job on the bench and I hope he continues to serve the community."
Judge Gonering was not only an outstanding Judge, he was always friendly and was happy to meet all the people.  He was benevolent and a very good thespian.  I enjoyed meeting with him and seeing his performances. A well-deserved retirement.
Former Washington County Board chairman Ken Miller said, "Judge Gonring was not only an outstanding Judge, he was always friendly and was happy to meet all the people.  He was benevolent and a very good thespian.  I enjoyed meeting with him and seeing his performances. A well-deserved retirement."
Acting West Bend Mayor and former West Bend Police Officer Steve Hoogester wrote, "Thanks for your years of service on the bench Andy. Whoever replaces you will have huge shoes to fill. Enjoy your well deserved retirement!!!"
Brian Bell from Cedar Lake Sales & Service in West Bend said, "Congratulations Andy. Well deserved. Thank you for your service to our community. All the best in your retirement."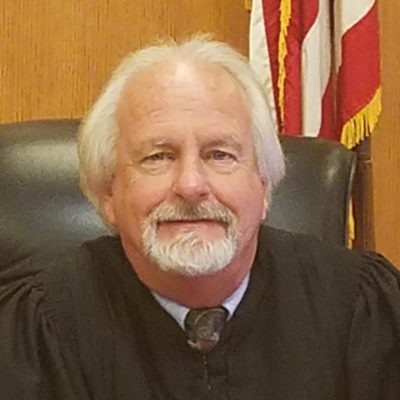 After nearly 20 years on the bench, Gonring said he is going to keep a promise he made to his wife.
"My wife and I always talked about me retiring in that time frame," said Gonring during a one-on-one interview. "She's gone and I promised her I'd retire at the end of March and that's what I'm going to do."
Gonring's wife Patti, 67, died October 10, 2019 following a 10-year battle with cancer.
Gonring said he had no idea what he would do in retirement. "I'm just going to take some time off, regroup and figure out where I want to go and what I'm going to do," he said.
"The decision to retire was difficult from the standpoint of my wife passing and did it make sense to stay or do I keep my promise to her and I decided I'd keep my promise."
Gonring was first elected April 4, 2000.  He ran unopposed and replaced retiring Judge Leo F. Schlaefer.
Gonring was last elected in April 2018. His current term would expire in 2024.
Gonring has notified Gov. Tony Evers who will appoint his successor.