March 12, 2021 – Washington Co., WI – The 2020-21 varsity basketball WIAA All-Conference selections are being announced. Today we highlight Hartford and Slinger North Shore Conference all-conference selections.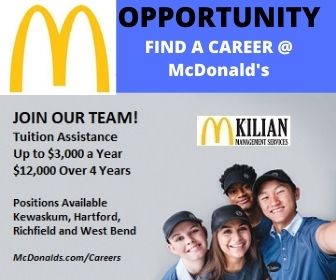 North Shore Conference
Hartford:
Boys:
Jadon Melvin, senior – 2nd Team: Finished seventh in the North Shore Conference in scoring with 18.7 points per game and scoring 449 total points this season. Melvin also scored his 1,000th career point this season. Melvin went on to lead the team in rebounds per game (7.2), total rebounds (174), assists (46), steals (33), and blocks (10) this season.
Girls:
Maci Meyer, senior – 1st Team: Finished first on the team and second the North Shore Conference in scoring with 15.0 points per game and 376 total points this season. Had the second most rebounds on the team with 133 total rebounds, while averaging 5.3 rebounds per game. Meyer also finished second both steals and assists for Hartford with 53 and 56 respectively.
Rebecca Stoeckman, junior – 3rd Team: Finished third on the team in scoring with 8.1 points per game and 202 total points this season. She led the North Shore Conference in assists with 98. She also the team with 56 steals.
Kacy Kratz, sophomore – Honorable Mention: Finished fourth in team scoring with 8.1 points per game and 195 total points this season. Kratz had the most rebounds on the team with 7.3 rebounds per game, with 175 total rebounds, 122 of which came on defense. She also led the team with 14 blocks. Her defensive skills could easily catapult her second or even first team in subsequent years.
Slinger:
Boys:
Derek Erdmann, senior – 3rd team: Lead the team with 11.9 points per game with 250 total points this season. Beyond the scoring, Erdmann was a tremendous field general for Slinger this season, with great offensive and defensive field vision, assisting and rebounding in a way that showed how much of a team player he was night in and night out. Slinger Head Coach Alexander Lavine gave a lot of praise to (Derek) Erdmann not just as a basketball player, but as an all-around hard worker. "He is one of the most genuine players I have ever coached and is truly an awesome kid! He's really grown into a leadership role on and off the court. I've enjoyed our conversations about basketball and life during his three-year varsity career."

Coach Lavine said Erdmann has a good sense of humor, yet committed to the game like no one else. "Erdy (as we call him) has committed himself to improving in the off-season and that was obvious by the number of mornings, I would see him in the gym at 6 a.m. working on his game. He wanted to get better and was committed to becoming the best version of himself." Erdmann not only finishes his final season with all-conference honors, but also was voted most improved player as a junior and offensive MVP as a senior by his teammates.

 
Girls: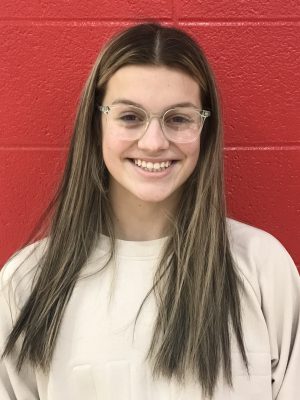 Malory Hoitink, sophomore – 1st Team: led the team in scoring and was third overall in the conference for scoring with 14.5 points per game and 347 total points on the season. Hoitink was also tied for most three-pointers made in the conference with 62 and finished third in most defensive statistical categories for the Owls. Hoitink seems to have the talent to be an amazing difference maker and if she takes a leadership role next season with a success rate that compliments her talent, big things might be on the horizon for the lady Owls basketball program.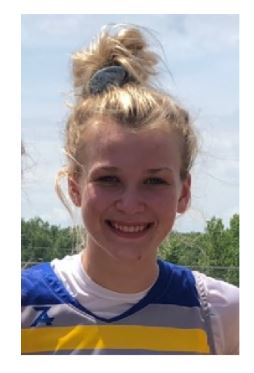 Samantha Gueller, junior – 2nd Team: Finished third on the team in points per game (10.0) and total points (241). She also had the second highest individual scoring performance this season with 24 points (Hoitink had the highest scoring individual game performance with 31 points). Gueller was a huge contributor to the team's offensive and defensive vision, leading the Owls in assists (80) and steals (50), while also finishing third in rebounds with 136. With her senior season looming many eyes will be on Gueller to conclude her time on the court and in the classroom on a high note.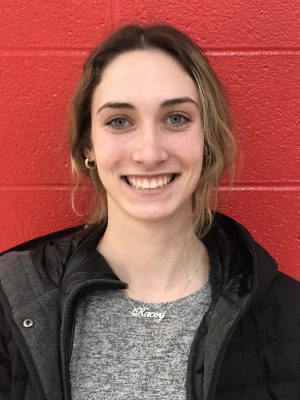 Kacey Ott, junior – 3rd Team: Ott finished the season second on the team in scoring with 10.3 points per game and 248 total points for the season. She was the team's rebound champion on both sides of the court with 59 offensive rebounds, 109 defensive rebounds for a total of 168 rebounds whilst averaging 7.0 rebounds per game. That type of instinct with the basketball isn't easy to come by, and with the chemistry Ott has developed with her fellow All-Conference teammates, three skilled leaders could create one the best teams in the North Shore Conference.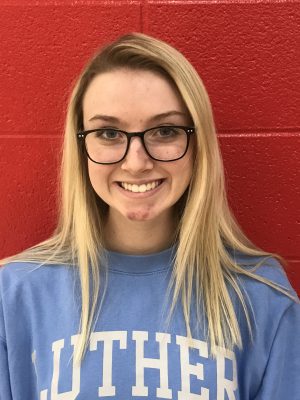 Kate Hosking, senior – Honorable Mention: Hosking may have only managed 7.3 points per game this season, but in literally every other category she proved to be a difference maker. She was second on the team in total assists (71), rebounds (137) and steals (32) while also leading the lady Owls in blocks with 30 on the season. The ability to lead by example and putting scoring on the backburner to be a catalyst in other equally important, albeit not discussed statistics is exactly what a strong and confident veteran leader should be able to do, regardless of what level they are playing. Upon graduation, Hosking will be attending Luther College in Decorah, IA, where she will be specializing in Allied Health Sciences and playing basketball.
Slinger photos courtesy Mike Daniels.