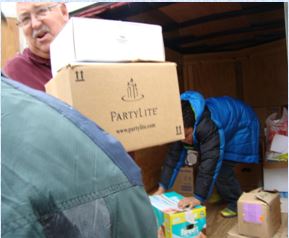 May 24, 2018 – As part of the Memorial Day weekend American Tribute Ride Committee members Ron and Ann Naab are collecting items to take to the Veterans Homeless and Recovery Center at King Veterans Home in Waupaca.
This is a semi-annual event the two have coordinated the past five years. The Ove House at King is the center that welcomes up to 27 male veterans trying to recover from an addiction and being without a home.
The staff has had many successful stories to share.
"No veteran should be homeless or in need of recovery assistance," said Ron Naab. "We believe supporting these men is something we owe to those that have served and now need our assistance."
Items veterans can use:
Personal Hygeine: Shampoo, conditioner, body wash, lotion, shaving cream, razors, deodorant, Q-Tips, denture cleaning tablets and containers, denture adhesive, flip-flops (shower shoes), bath towels, wash clothes, etc;
Cleaning supplies: Laundry soap, fabric softner, dish soap, hand soap, toilet cleaner, floor
cleaner, bleach, disinfectant wipes, etc;
Kitchen items: dry drink mix, juice, coffee, creamer, sugar packets, fresh and canned vegetables, fresh and canned fruits, cereal (sugar mostly), pancake syrup, pasta's, ketchup, grape jelly, salad dressing, peanut butter, assorted chips;
Bedding supplies: Pillows; Twin sheet sets, blankets, fans.
Personal clothing items: Tennis shoes 9 – 13, New Boxer/Briefs, T-shirts and socks, slightly used men's and women's clothing;
Gift cards: Piggly Wiggly, Pick n Save, Walmart, Kmart, Walgreens, or Shopko/
Those that would like to support this collection drive can contact Ron Naabat
[email protected]
, Facebook messenger, or 262/629-9749.