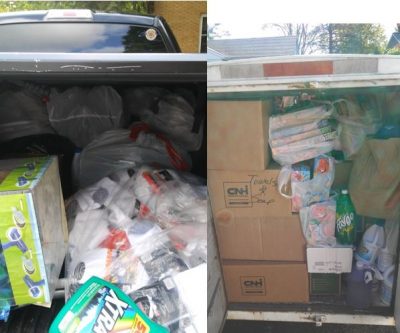 June 2, 2017 – Allenton, WI – On Memorial Day, Ron Naab and his wife Ann of Allenton made a trip to King Veterans Center outside of Waupaca.  The purpose of the trip was to make a delivery of donated items on behalf of the American Tribute Ride to the Veterans Assistance Center which houses a facility to help homeless veterans get back on their feet.
Items collected included– bleach, laundry soap, dish soap, floor cleaner, twin sheet sets, pillows, twin comforters, bath towels, wash clothes, non-alcoholic beverages, snacks, coffee, coffee creamer, sugar packets, socks, men's underwear, and t-shirts.
Thanks to the members of the Still Waters Community Church, Hott Tees Screen Printing, members of the American Tribute Ride Committee, Leann Boudwine of Support the Troops-Hartford and the Tom Schellinger family for their generosity; the 4 x 7 foot trailer and the back of a pickup truck were full.
Part of the cache included 13 cases of Girl Scout Cookies, 14 large containers of laundry soap and almost 300 pair of socks.
The center is located in the OVE House on the King Campus, it houses up to 27 veterans of all ages that are trying to get through rehabilitation and re-enter the workforce.  The government allows them a place to sleep and food.  The rest of the necessities come from donations such as these.
This is the ninth trip the Naabs have coordinated through the American Tribute Ride fund raiser.
This is a ride that travels a new route every year.  The proceeds benefit area Honor Flights, Veterans Assistance Program, Wisconsin Burn Survivors Camp, Wisconsin State Firefighters Memorial, and Concerns of Police Survivors-Wisconsin.
This year's ride starts at the Wisconsin State Firefighters Memorial in Wisconsin Rapids and ends at Theresa Firemen's Park on Saturday, July 22.  More information is available at www.americantributeride.com.