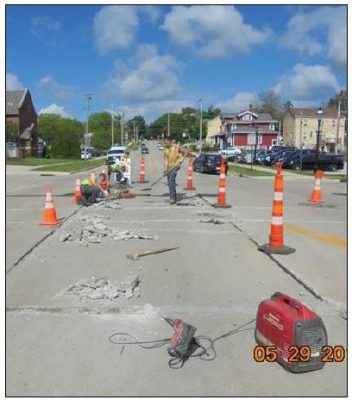 June 3, 2018 – West Bend, WI – The next couple weeks Washington County will be in the national spotlight with the U.S. Open at Erin Hills.
The day after that tournament ends the spotlight will shift to downtown West Bend as the Tour of Americas Dairyland makes a return visit.
This week crews from the city's Public Works Department were making repairs to the intersection at Fifth Avenue and Walnut.
"The course was inspected by race officials and a list of repairs were submitted to the Public Works Department to complete before the race date," said city administrator Jay Shambeau.
"Crews will be patching areas within the race route to prevent injury to the bike riders. The area will be addressed with larger scale repairs in 2018."