VIDEO | Allenton's annual Rib Eye on the Strip Casino Night & Steak Dinner is Saturday, April 28 | By Ron Naab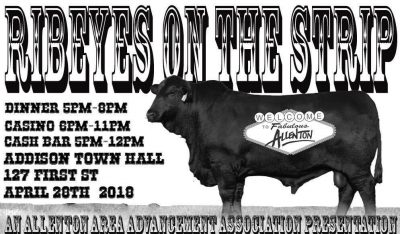 April 25, 2018 – Allenton, WI – Scott Ritger, president of the Allenton Area Advancement Association (AAAA), announced that Saturday, April 28 will be the 2nd annual "Rib Eyes on the Strip." The event will be a combined venue of casino gaming and a steak dinner held at the Addison Town Hall, 127 First Street in Allenton).
"It is our intent to offer an evening of great food and fun and games of chance such as Black Jack, Roulette, and Craps," said Ritger. "Guests can come eat an excellent rib eye with a potato and salad bar along with home desserts and then visit the casino area or vice versa."
Each person that buys a steak dinner ticket will receive $500 in fun money which can be used to participate in the casino or turned in for a raffle ticket.
Tickets are $25 in advance from any AAAA member or at Romie's BP or at the National Exchange Bank.
Proceeds from this event support many causes within the Allenton Area. This year's primary goal is to raise funds to do an update, remodel of the kitchen in the Veterans Park Pavilion.  As part of this project led by the AAAA along with many other fraternal organizations in Allenton will be to seal the floor with epoxy, add a new ceiling, new electrical service and outlets, paint and much more.
Come out for a steak dinner and do some gambling in the casino. Who would have ever thought…gambling in Allenton!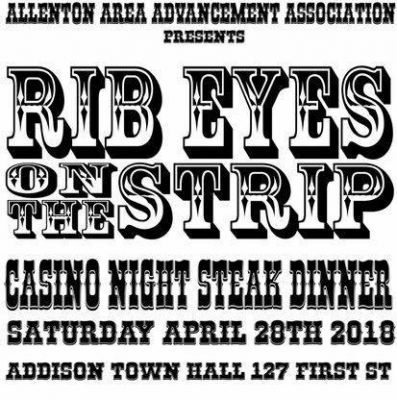 The evening is being presented by the Allenton Area Advancement Association.