Alzheimer's bike tour wins national recognition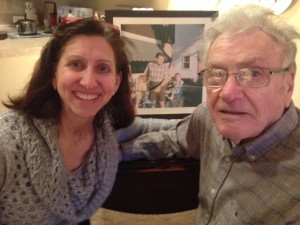 An announcement this week that the Amazing Ride for Alzheimer's has won national recognition. The award is being presented by LeadingAge, an association of 6,000 not-for-profit organizations dedicated to making America a better place to grow old.
For the past three years I've completed a 3-week bicycle tour raising money and awareness for Alzheimer's.  All the money collected stays local and benefits exercise and music programs at Cedar Community.
During the Great Minds Gala 2016 I will be in Washington D.C. on March 15 to receive the Exceptional Friend or Family Caregiver Award.  LeadingAge describes the award: The Exceptional Friend or Family Caregiver Award recognizes an individual who has demonstrated outstanding compassion and abilities in one-on-one caregiving for a friend or family member living with dementia.
Cedar Community recently published information in its Cedar Giving mailing. "Judy's energy and dedication to her father's care in the face of Alzheimer's has helped inspire an entire community through her storytelling and international bike trips.
"Over the course of three excursions, through Alaska, Nova Scotia and Italy, she has logged nearly 3,000 miles and raised more than $60,000 for Alzheimer's programming at Cedar Community."
There are a couple other awards including the Senator William and Ellen Proxmire Award – past winners include Supreme Court Justice Sandra Day O'Connor, First Lady, Rosalynn Carter, Mark Kennedy Shriver, and Glen Campbell and his family.
I'll be posting updates from the event in D.C.
The news of the award is a great way to kick off the fundraising for this year's tour, June 22 when I fly to New Mexico, tour Shiprock and then pedal home. More information is at imthebikewriter.blogspot.com
Behind the scenes:
– This trip is totally going to spoil me. LeadingAge is picking up the tab on the round-trip plane ticket for me and guest. We get to stay at the Washington Marriott Wardman Park  This is a far cry from how I normally tour –  sleeping in church basements or yurts  – but I think I'll easily adapt.
-LeadingAge has offered to let me stay for three days – on their dime. I started to debate about whether I could get away for that ….. oh, who am I kidding….. I jumped at the opportunity. You all are just going to have to like my stories from the road for a couple days 'cuz I'm doing this!
-Thanks in advance for all the support.